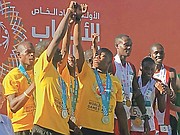 By RENALDO DORSETT
Tribune Sports Reporter
rdorsett@tribunemedia.net
Team Bahamas closed out the 2019 Special Olympics World Summer Games with two medals won on the final day of competition in Abu Dhabi.
It brought their final medal tally to 14, including six gold, three silver and five bronze.
Latonya Moss and Stephan Russell highlighted the day with their gold medal in Bocce Doubles. The team finished with a pair of wins, no losses and one draw for a total of eight points.
Canada won silver (seven points) and Malta took bronze (six points). Both were individual Bocce medal winners. Moss won gold and Russell took bronze in their respective divisions.
The Men's 4x400m team also reached the podium on the track. The quartet of Derron Williams, Tavaris Cooper, Frank Knowles and Christopher Rolle clocked 4:08.73 seconds to claim the silver medal.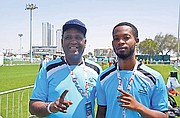 Kenya finished first in 3:59.04 while Lithuania was third in 4:25.48.
The Bahamas just missed another gold medal in the Men's 800m but a disqualification thwarted the effort.
Knowles actually crossed finish line first but was disqualified due to a lane violation.
Beaver Smith of the Cayman Islands was awarded the gold medal in 2:21.31, Nouman Riaz of Pakistan took silver in 2:21.36 and Mario Zajfrid of Slovenia took bronze in 2:37.77.
An enthusiastic unified soccer team was also awarded their bronze medals.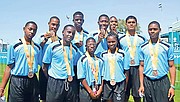 "It's the highlight of my sporting career so far, to see how far we've come from, I have nothing but gratitude to these kids for the way they responded on the field," said team head coach John Wildgoose.
"The feeling is not just about me, it's about the whole team, starting with the coaching staff, managers and organisations. I've been around for a while locally, this is my best trip yet so far and it's even deeper to me as a coach."
Special Olympics Bahamas continues its trend of success at the international level.
At the last World Summer Games in 2015 in Los Angeles, California, Team Bahamas returned home with 25 medals, inclusive of 10 gold, 11 silver and four bronze.