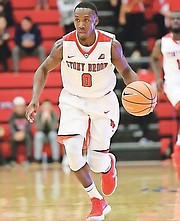 By RENALDO DORSETT
Tribune Sports Reporter
rdorsett@tribunemedia.net
A STORIED collegiate basketball career for Abaco native Jaron Cornish came to an end when his Stony Brook Seawolves were eliminated from the Roman College Basketball Invitational in heartbreaking fashion.
The Seawolves suffered an 82-79 overtime loss to the South Florida Bulls Wednesday night at the Yuengling Center in Tampa, Florida.
Cornish finished with the third double double and one of the best all around games of his career - 21 points, 12 rebounds and six assists.
"They came together and really played hard today. The second half was really unfortunate. They are a really good team and a good high-major team," Seawolves head coach Andrew Tole said. "We didn't shoot the ball very well and turnovers didn't help us in the second half. We just couldn't get to the wire with where we were with fouls and injuries."
The Bulls had an early 17-15 lead before the Seawolves responded with a 33-6 run in just under nine minutes. Cornish scored seven during that stretch.
The Bulls had a run of their own to get back into the game. It was a one-possession game for much of the second half and after a late Bulls layup was called off the game headed for overtime. USF was up by as much as nine in overtime and Stony Brook could only pull within two.
Cornish finished his senior season with averages of 9.4 points, 4.3 rebounds 3.6 assists and 1.1 steals per game through 33 contests. He led the team in both assists and steals and also finished fourth in scoring and rebounding.
Last season, Cornish played in 27 games, making 14 starts. He led the Seawolves in assists (77) and finished second on the team in scoring (8.6) despite missing the first four games of the season following knee surgery. He was named the America East Player of the Week for his play in the overtime win at Rutgers and had two double doubles.
Prior to his seinor season, he made his senior national team debut as the Bahamas earned their only win of the FIBA 2019 World Cup Qualifiers - an 83-82 win over the Dominican Republic.
Cornish made a three-pointer to give the team a 77-64 lead with 3:57 left to play for their biggest lead of the game.
Cornish transferred to Stony Brook after completing two NJCAA seasons with the Broward College Seahawks in Fort Lauderdale, Florida.
As a sophomore, he averaged 18.7 points and 4.5 assists per game on 42 per cent from three-point range. While leading his team in nearly every offensive category, Cornish was also one of the top players in the NJCAA and ranked in the top 50 Division I JUCO players in the nation in free throws made, made free throws per game, total points, steals and points per game. He tallied 11 20-plus point games in his final season at Broward.
An Abaco native, he played locally at Agape Christian before transferring to Champagnat Catholic in Hialeah, Florida.