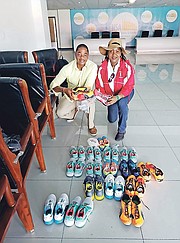 By BRENT STUBBS
Senior Sports Reporter
bstubbs@tribunemedia.net
SHAUN Miller has been re-elected as president of the Bahamas Association of Athletic Coaches in a landslide victory over past president Curtis Pride with all of his slate of officers voted in.
The elections took place on Saturday morning as the coaches took advantage of the break in the Ministry of Youth, Sports and Culture's National Track and Field Championships.
Miller collected 105 votes to beat out Pride, who got 12 for his second consecutive two-year term in office during the elections held at the Courtyard Marriott, which served as the host hotel for the Nationals.
Rudolph Ferguson went in unopposed as first vice president. So did secretary general Nikita Charlton and treasurer Dawn Johnson.
Grand Bahamian Dereck Wells won 97-20 over Jason Larimore for second vice president and Robert Ayton won 82-34 over Grand Bahamian Nikito Johnson for assistant secretary.
The four board members elected were Sherry Francis with 99 votes, Bernard Rolle with 90, Marian Stapleton with 88 and David Ferguson with 87. They won over Dexter Bodie with 35, Andrew Tynes with 16, Pride with 14, Grand Bahamian Sandra Laing with nine and Valentine Davis with four.
"We want to give God all the thanks and all the praise and we also want to say thank you to all of the coaches for showing up their support," said Miller, who had about 124 coaches participate in the voting process. "Our executive team have been working for the past two years and I guess this was the coaches way of saying that they were satisfied with what we did and they put us back in."
Miller, the father of Olympic and world champion Shaunae Miller-Uibo, said he was a bit surprised of the landslide victory, even though he had a lot of respect for Pride.
"With the coaches giving me that kind of support, it just means that I have to go and work twice as hard to get more things done for the coaches," Miller pointed out.
"Once the coaches get what they are looking for, then the country can move forward and produce better athletes through the coaches. So our plan is education, we are looking for safety and we are looking at Family Island development."
While they visited some of the Family Islands to impart their knowledge, Miller said he and his executives spearheaded a drive where the coaches were able to provide more than 100 tennis shoes and spikes that they presented to the Family Island athletes.
The Sports Center and Miller-Uibo and her Foundation assisted in the project.
"In most cases, what we did with the athletes when they crossed the finish line and we looked at their feet, we were able to give them something to wear," he said. "It was a very successful shoe drive.
"We need some sponsors, but we hope to do it again. There's a lot that these kids need in the Family Islands and in our inner cities, so I know just what doors I'm going to knock on to ask for help. So there's a lot of work out there for us to do."
With the Bahamas Association of Athletic Associations getting ready to send off its national teams to compete, Miller said the Coaches Association has been given the opportunity to make recommendations for the head coaches and they have been able to select the assistant coaches.
"The process is a little tricky and a tedious one, but in the long run we feel we should know who best to put on the team because we work with the coaches," he said.
"So we're working with that and this year is the first year that the coaches, except for the head coach, is selected solely by the Coaches Association.
"We are responsible for making our recommendations for the head coaches. The BAAA, however, has the right to make the final decision on the head coaches."
One of the other things the Coaches Association intends to concentrate on this year will be on educating their coaches.
"We had some discussions just before the elections on how we are going to go about getting funding for education and so that is something that is high on our agenda," he said.
"We came up with a master plan, but we are keeping it a secret for right now. But we're asking all of the entities out there to stand by because we will be coming to you to help us," added Miller.