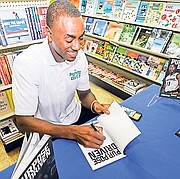 By RENALDO DORSETT
Tribune Sports Reporter
rdorsett@tribunemedia.net
LOURAWLS "Tum Tum" Nairn Jr hopes to serve as an inspiration for a future generation of Bahamian athletes eager to tell the stories of their respective journeys to success.
Nairn has officially launched his first book, an autobiography entitled "Purpose Driven", and hosted a book signing at Nassau Stationers on Saturday. "It feels good to finish this process, it just was something I never dreamed of doing," Nairn said.
"The love and support of my mom, my dad, my family here with me, the support of the country, I think it's a great accomplishment in my life."
Patrons had an opportunity to purchase copies and interact with the former Michigan State Spartans and Bahamian national team point guard.
"I hope I can inspire kids to write their story, not so much so people can see what they went through, but how they respond to it to inspire and help other people to grow up the same way they grew up, in the same walks of life and that's what it's all about," Nairn said.
The book details the story of Nairn's life and his journey from the Bahamas to elite Division I NCAA basketball and beyond.
"There are more books to come, I just keep walking by faith and not by sight, just move with whatever God tells me to do," he said. "I have a big decision to make and decide what's next for my future and I'm just taking my time before I make that decision."
Nairn last had a role with the Phoenix Suns as a member of the coaching staff with a focus on player development.
"It's a blessing just to be able to write a book coming where I come from, living in Bain Town in Nassau, just to do that is something special for me," he said.
"It just helps other kids back home to see that they can do the same thing," he added.
Nairn was also a former high school teammate of Buddy Hield at Sunrise Christian Academy in Kansas before both parted ways for their respective collegiate careers.
The two shared a moment prior to the first Suns and Kings matchup this season and Hield heralded Nairn's new career path as an author. "Tum Tum is like a brother to me. He's not playing professional basketball but he found a way in the sport to make a living for himself and his family and that's a great thing," Hield said.
"I know his book is going to be a success because his story is amazing and he has so many life lessons to share with people. I'm going to buy a bunch of his books and make sure kids back home can have them and be inspired by his story to get to where he is today."
Before he decided on the Spartans, Nairn received offers from Kansas, Kansas State, Oklahoma, Ole Miss, Iowa and Arkansas and becomes the first MSU commit for the 2014 class. His stock rose to the 61st ranked basketball player in America for the class of 2014 by Rivals.com and 72nd by ESPN.com.
A former CR Walker Knight, Nairn was also a member of the Bahamian national team at both the junior and senior levels. He finished his high school career with the Sunrise Christian Academy Buffaloes in Bel Aire, Kansas.
"Ten years ago today, I did the hardest thing I've ever done in my life. At the age of 13 I left home in the Bahamas to follow my dreams of playing basketball. I had no idea what was going to happen, but I took a leap of faith and left my entire family to go to a place I had never been before. I was determined to make the best out of any situation or circumstance that came my way. Early mornings, late nights. Blood, sweat, and many tears," Nairn said.
"Nothing could stop me from chasing my dreams and actually catching them. There were times I wanted to quit. There were times it seemed like nothing good was going to come out of it. But I kept going. The journey definitely wasn't easy but my hunger to achieve my goals motivated me more than the fear of failure. I found strength within myself that could only be revealed through trials and tribulations."
Spartans head coach Tom Izzo has always heralded Nairn's leadership abilities as something that could not be simply measured on a stat sheet. He awarded Nairn the title of team captain for three consecutive years and often called him an extension of the coaches on the floor. He was also awarded the Stephen G Scofes Inspirational Player Award for three of his four seasons with the Spartans.