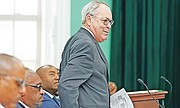 By NATARIO McKENZIE
Tribune Business Reporter
nmckenzie@tribunemedia.net
A Cabinet minister yesterday admitted credit costs and access must be eased for Bahamians as he defended the government's work permit reforms against opposition criticisms.
Brent Symonette, minister of financial services, trade and industry and Immigration, said the BH-1B work visa was designed to support the government's ambitions to create a technology hub in Grand Bahama - and the Commercial Enterprises Act - by reducing bureaucracy and red tape associated with the immigration approvals process.
Speaking on the sidelines of the Society of Trust and Estate Practitioners (STEP) Caribbean 2019 conference, Mr Symonette said: "The BH-1B visa is intended to get tech business here in The Bahamas when the United States is restricting the number of visas they issue from some 65,000 down to 45,000.
"Those are gobbled up in four days after coming online, and so there is a great interest in that industry. The prime minister and the minister of state for Grand Bahama have been to the United States, and there a number of persons interested in that. Dell is having a convention there, and I think they are bringing some 1,400 delegates in short order. We see an industry for tech work in Grand Bahama."
He added: "That dovetails into the Commercial Enterprises Bill. That allows for a number of industries that are not in The Bahamas currently. The Commercial Enterprises Bill gives an applicant a work permit [within 14 days of the application being submitted].
"The Department of Immigration has the right to revoke that if they find you have some antecedents that are terrible. After that you go straight in to get your approval and you go in to start your business with a minimum investment of $250,000."
As for concerns that the $250,000 investment threshold is too low, Mr Symonette said: "Some people ask why $250,000 and why not $1m. A lot of businesses come in and rent office space, and you don't need massive overhead. That figure was set at $250,000 to make it easy to get into business.
"Does it stop Bahamians? No, because Bahamians are entitled to do that. You can argue that we have to find ways to make it easier for Bahamians to get credit. There are too may documents needed to get a loan. In Switzerland I'm told there is like 2 per cent interest, and we're paying 7-8 per cent here. We have to find a way to get around that."
The government tabled the Immigration (Amendment) Bill 2019 in March, making it clear that the BH-1B work visa is intended to underpin, and complement, the Commercial Enterprises Act and its promise to liberalise the Immigration regime for companies in sectors targeted by that law.
The Commercial Enterprises Act attempts to introduce certainty and predictability to the work permit regime by requiring the director of immigration to make a decision on their approval within 14 days of the application's receipt. Applications from businesses covered by the Act must be submitted within 30 days of the worker's arrival in The Bahamas.