Tuesday, November 5, 2019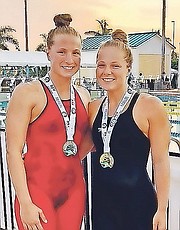 By RENALDO DORSETT
Tribune Sports Reporter
rdorsett@tribunemedia.net
ONCE again, "the Battle of the Carolinas" matchup between the North Carolina Tar Heels and South Carolina Gamecocks swimming and diving teams featured the Higgs sisters on opposing sides.
Lilly and the Tar Heels picked up the win for the women's team over Albury and the Gamecocks (159-141).
The South Carolina men picked up their first win of the season 172.5-127.5.
Lilly had a pair of top three finishes and an individual win in the head-to-head matchup against Albury.
She took first place in the 200 yard breaststroke in 2:17.11 seconds while Albury finished just behind in this place in 2:17.93.
Lilly swam to second place in the 100 yard breast in 1:02.53 and Albury was fourth in 1:03.69.
Albury got the edge in the 200 yard IM and finished second in 2:03.92. Lilly finished fifth in 2:06.15.
"It was a hard-fought meet with some ups and downs," Tar Heels head coach Mark Gangloff said after the meet.
"You always want to come away with a win, which is what our women's team did.
The Carolina women won 10 events on the day and had multiple instances of teammates finishing in the top three.
Gamecocks head coach McGee Moody said: "We were really good today. This was by far, collectively, the best meet we've had this season. We were sharp."
The Higgs sisters brought their sibling rivalry to light in an interview with The Tribune during the BSF Nationals in June.
Albury is currently a senior with the Gamecocks. "We swim the same events so it's very cool to swim next to someone you know. We provide competition with each other. But no matter who wins, there is no hard feelings. We love racing against each other and it has been a fun experience for both of us," she told The Tribune.
Once they're done, Albury admits that they leave their performances behind at the pool and rarely ever dwell on who has the upper hand on who in their respective events.
"It's never really any hard feelings because we always want each other to do their best, but there's certainly some added competition when we race against each other,"she said.
"Having some bragging rights to say that you won is fun sometimes, but we don't have any hard feelings no matter who wins. We still hang (with) each other and congratulate the other for their performances."
Lilly, a sophomore for the Tar Heels, said the joy of competing alongside each other outweighs the result.
"Maybe, in the beginning, we were concerned more about who is winning," she added.
"But now that we are both in college, as elite swimmers, we now recognise that it's great to have a sister to race next to especially when we are here at home. We just have a lot of fun with each other and we push each other in our races and so we get to compete much better."