Tuesday, November 5, 2019
By BRENT STUBBS
Senior Sports Reporter
bstubbs@tribunemedia.net
"BUILDING Healthy Lives Through Athletics" was the theme for the Red-Line Athletics Track Club's initial seminar as both athletes and parents got some relevant information on what is required to be a successful track and field athlete.
The first of its kind seminar hosted by a local track club, headed by coach Tito Moss, was held on Saturday in the AV Room at St Augustine's College and featured a number of speakers who addressed various topics that helped to stimulate those in attendance on the way forward.
"I learned a lot of stuff that I didn't know," said Sanai Forbes, a 10th-grader at SAC. "It was good to hear how to hydrate my body before and after practice, how to condition my body properly so that I can prevent injuries and what I should eat and not eat so that I can perform better on the track."
The sprinter said she's much better prepared to continue in the sport because of what she heard from the speakers.
Every now and again, one of the parents, Ronique Curry, said it was good for persons to reinforce the comments to the student-athletes.
"I think the kids were really receptive to what was being shared with them," said Curry, mother of sprinter Adrian Curry. "I think they learned quite a bit, some of it they knew because coach Moss was constantly trying to get them into a frame of mind about being a student-athlete. A lot of it was probably new to them and so it was a good way for them to spend their Saturday."
In a nutshell, here's a summary of the topics addressed by the speakers.
Dr Miquela Rolle
It was even refreshing to see the rivalry on the track between SAC and Queen's College transcend off as Dr Rolle spoke on preventing injury in sports and athletics. What was so fascinating to Rolle was as a 2003 graduate of Queen's College, it was her first speaking engagement to a school.
"Keeping hydrated, making sure they do the proper warm-up, making sure they are stretching and concentrating on nutrition, which is a huge factor, so we spoke about garbage in and garbage out and resting and recovery," said Rolle, who thanked Red-Line Athletics for inviting her to be a part of a very informative seminar that is warranted and needed for athletes to avoid injuries.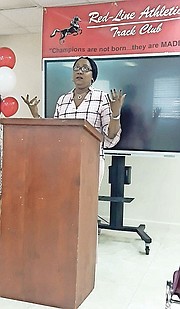 Dianne Woodside-Johnson
As the final presenter, the former coach of the majority of athletes through her Club Monica and SAC Big Red Machine track team, Johnson left eight important points for the student-athletes to follow in their quest to being a successful student-athlete.
"I didn't want to hold any bars in telling them what they need to be successful," said Johnson, who had some clear cut statements for both the athletes and parents to ensure that their student-athletes didn't get burned out and quit the sport. "Sometimes it's good to take the kids off the track, sit them down and have persons come and talk to them," said Johnson, who was involved in coaching for at least 30 years after she graduated from SAC in 2015 and went on to excel in the hurdles.
"I thought it was a very good idea and a successful one."
Rachante Colebrook
The former 400/400m hurdler at St Augustine's College emphasised on "fostering your full potential", but her message was to advise them not to just focus on that area, but rather on their holistic skills so that they can be the best person possible.
"As athletes, we should not just define ourselves in one area," said Colebrook, who graduated from SAC in 2012 and went on to compete for Nichol State University. "We need to focus on all of the skills that we have to offer and honing all of those skills to become a better student-athlete."
Kent Wood
Using his platform to motivate and encourage the student-athletes, former basketball player Kent Woods, who went on to study at the University of South Florida, taught some life lessons that he hopes they can apply to their high level of performances in their careers and their academic pursuits.
"I was very impressed because an event like this was never held when I was in school," said Woods, who graduated from SAC in 2012 having served as the house captain for Bernard.
"So I'm really happy to see a coach take the initiative and set up an event and bring in some persons who had that experience to impart to the student-athletes."
Michael Armbrister
The former middle-distance runner and baseball player provided some tips on the healthy lifestyle of an athlete. At the end of his presentation, Armbrister revealed his jersey worn as a representative at the 1977 CARIFTA Games when the Bahamas defeated Jamaica.
"We hear so much about eating this and eating that and vitamin this and vitamin that, but I wanted to let them know that the food chain and the health pyramid has changed so much that they have to change the way they eat at such a young age," Armbrister said.
"I think this type of forum is needed. I've been there and done it."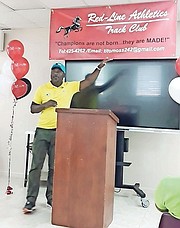 Drumeco Archer
As the president of the Bahamas Association of Athletic Associations and a former sprinter for SAC, Archer touched on what is required to be the G.O.A.T. - Greatest of All-Time."
"The BAAA expects a level of excellence. We're not in a position to producing average performances because the country expects more of us," Archer said.
"We are among the leaders in the world in track and field and so it's important for our athletes to understand what is required from them.
"In spite of all that may have been said about our first year in administration, we want to leave behind this one singular theme and that is that we are in the business of producing the best athletes in the world. So I'm happy to see the composition of athletics that make up Red-Line Athletics. I believe that it's the first of its kind that I've ever attended where there is a holistic plan to ensure that they can become great athletes."
Nekeva Moss, the team manager for the Red-Line Track Club and mother of Megan Moss, said the event was very successful and she hopes that all that was shared by the speakers, the student-athletes will apply to their lives and use some of the examples given to further their athletic careers.
"Some of the examples given were from very good student-athletes and so I think it was a lot the kids had to draw from," she said. "I think this was a good building block to their success."
Moss, the founder and head coach of Red-Line, said after their first year of existence, they wanted to provide another forum to motivate and inspire their athletes, so the best way they could do it was by sitting them down and hearing from some persons who have been there and did it before them.
"I'm very pleased with the turnout. The speakers were excellent. Our theme - Building Healthy Lives Through Athletics - was very important and I'm just happy that we decided to do this seminar," Moss said.
"The kids were enthused. They learned a lot and this is just the first of many to come because we want to speak to the whole child because we want to make them better citizens of the Commonwealth of the Bahamas."
Look for the next seminar to be staged in the spring as the Red-Line Athletics get set for the 2020 season, including a trip to the University of Kentucky to participate in their first indoor track meet on February 2.