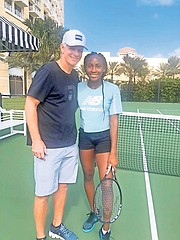 By BRENT STUBBS
Senior Sports Reporter
bstubbs@tribunemedia.net
BAHAMIAN legendary tennis player Mark Knowles said he's excited about the way things are shaping up for the first Baha Mar Cup.
The three-day event got started yesterday with the Bahamas Futures Cup, an event designed to provide the players under the age of 18 an opportunity to harness their skills in a tournament format against each other.
Knowles, the retired Bahamian top-ranked doubles player in the world, will host a meet-and-greet dinner and a live silent auction at the tennis club at Baha Mar.
On Saturday morning, there is a youth tennis clinic from 9-11am. From 1-3 pm, the pro-am portion of the event will take place. And from 3-5 pm, the tennis exhibition will take place.
Knowles will be joined by Cori 'Coco' Gauff, Arantxa Sanchez-Vicario, Andy Roddick, Tommy Haas, James Blake and Bob Bryan in putting on what promises to be a spectacular display of tennis here in the Bahamas.
"I'm super excited. Obviously, it's all for a great cause," said Knowles, who is using the event to help raise funds to assist the relief efforts of those affected by Hurricane Dorian in Abaco and Grand Bahama.
"Anytime you can get such a great lineup of players down here, just to give exposure especially to our tennis community and for our younger generation of tennis players, it is just fantastic."
All of the players, according to Knowles, are here in the Bahamas taking in the sun, sand and sea ahead of the planned activities for this weekend.
The players will all get to participate in a team tennis style of play where they get to display their talents in doubles and singles, especially as they highlight rising young star Gauff.
At the age of 15, the Delray Beach, Florida native has already taken the Women's Tennis Association by storm, becoming the youngest player to crack the top 100 with a current mark of number 68.
She comes to town having just captured her first WTA singles title at the 2019 Linz Open in Austria that ended on October 13, making her the youngest singles title-holder on the tour since 2004.
Gauff has won a pair of doubles titles with her compatriot Caty McNally at the Citi Open in Washington, DC in August and the Luxembourg Open in Luxembourg in October.
But everybody will probably best remember Gauff for her upsetting first-round win over Venus Williams at Wimbledon when she made her breakthrough on the scene in July at the All England Lawn Tennis and Croquet Club in Wimbledon, England.
Vicario, a retired 47-year-old native from Spain, has won a total of 14 grand slam titles - four in singles, six in doubles and four more in mixed doubles. She was crowned ITF World Champion for the year in 1994 and was inducted into the International Tennis Hall of Fame.
Roddick, 37, is an American former No.1 player in the world who has won a total of 32 men's singles titles, including the US Open in 2003 and four doubles crowns. He too was inducted into the International Tennis Hall of Fame.
At 41, Haas was a former German player who won 15 career singles titles and one in doubles. He also got a silver in singles at the 2000 Olympic Games in Sydney, Australia.
Blake, also retired now at the age of 39, has won 10 career singles titles and seven in doubles. The New Yorker was honoured by the ATP when he was named the Arthur Ashe Humanitarian of the Year in 2008, three years after he was presented with the Comeback Player of the Year award.
And Bryan, at 41, is back, albeit without his twin brother Brian, who formed the formidable duo that combined to win more than 100 doubles titles.
They also captured a gold medal from the 2012 Olympics in London, England and bronze from the 2008 games in Beijing, China in doubles.
As for Knowles, 48, he was the Bahamas' most decorated player, having won 55 career titles, one in each Grand Slam, partnering with Canadian Daniel Nestor at the 2002 Australian Open, 2004 US Open, and the 2007 French Open, along with the mixed doubles crown with Anna-Lena Gronfeld of Germany at Wimbledon in 2009.
He said he's delighted to bring the international players to the Bahamas to participate in the event as they seek to assist in raising funds for Hurricane Dorian victims.