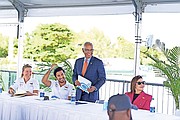 By RENALDO DORSETT
Tribune Sports Reporter
rdorsett@tribunemedia.net
The top jet ski riders in the world are set for a busy and exciting weekend in Nassau Harbour for the next three days at the P1 Aqua Cross (branded Aqua X) Racing World Championships.
The event begins today and continues through November 10, hosted by the Atlantis resort, the Bahamas Ministry of Tourism and Aviation, the Nassau/Paradise Island Promotion Board and P1 Aqua Cross (branded Aqua X) Racing.
An elite field of up to 40 professional riders from eight countries, who have qualified through a series of national and continental races across the summer, will begin competition today through the qualifying rounds.
Unlike other jet ski formats where the majority of racing takes place inland, usually on technical tracks, AquaX events are staged on the sea.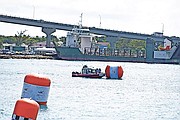 The race courses are simple and wide open, giving the competitors an opportunity to reach top speeds.
Several riders expressed their excitement at the course itself and the new initiative of bringing the event to the Bahamas.
Brian Baldwin is the reigning Aqua X world champion and after recently becoming the 2019 USA Champion, will come to the Bahamas atop the rankings.
A first time visitor to the Bahamas, Baldwin looks to have a bit of a vacation before it's down to business on the water in Nassau Harbour.
"To have a venue in a place like this is super exciting. We've worked all season to come here and qualify for this. Coming here and seeing this is beyond my expectations.
"I've never been to the Bahamas, much less raced here, so we're going to come early, spend our vacation here, get some relaxation in but most of all come here and win," he said.
"It's the first time there's been a world-class jet ski race here and I'm coming in as the No.1 ranked world rider. I think I have a target on my back but I usually don't let that shake me. I will just get in there and do the work."
Tim Ducat said he has been honed on this event for the duration of the season both for professional and family reasons.
"The minute I heard about it I started texting my wife. We didn't get an opportunity to come here for our honeymoon when we got married earlier this year, but to have the opportunity to come here now, it means so much to us, to bring my newborn son and wife here," he said.
"It's been my single point of focus since June. Everyday in the gym, everyday on the race course was just about qualifying to get here and it means a lot."
Anthony Radetic is a disabled rider who said AquaX is one of the most inclusive sports that more people should look into as its popularity grows. "Atlantis is a very accessible place for a guy in a wheelchair," he said. "The course looks like a lot of fun, the spectators will have an amazing view of all the action so everyone is going to love it. As a disabled athlete to be welcomed with open arms and to be brought up to almost a level playing field by adjusting the rules a bit, it's just amazing."
Chris Landis won the overall amateur US series to qualify for this weekend's world championships. "I'm super excited," he said. "I work as a parts salesman so I have a lot of customers in the Bahamas so it will be cool from both a business side and a racing side to be here. Im very excited to come out and show them what I've got."
Officially kicking off in Daytona Beach back in April, the 14-event P1 Aqua X season included race series in the United States, mainland Europe, and the United Kingdom. The US Series of qualifying races has been dubbed "The Race to The Bahamas."
"The riders have been qualifying through the summer in various championships around the world. We have had fantastic championships in the US, Europe and the UK and we have riders from eight countries competing here this weekend gunning for that top spot," said Lisa Barbsby, Global Head of P1 AquaX and former world champion.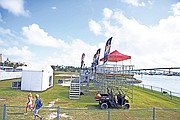 "We have some very fast riders in this field. This year in the US we have had five different winners in five different rounds, so we don't know who is going to win. It's a fantastic location as far as conditions and it's going to be a very fast race."
Azam Rangoonwala, CEO - P1 Aqua X, said all stakeholders look for the current two-year deal to expand as the event develops. "We want to create this as a foundation for the sport. This is really a growth project and we hope that year after year we will keep coming back here to grow this venue," he said.
"It's been a natural progression from the opening race season in the UK in 2011 to the series expanding to the USA two years later and then in mainland Europe in 2017. The rapidly increasing number of riders, partners, and fans has been tremendous and the close relations with leading manufacturers have added considerably to the legitimacy of the series.
Partnerships are at the heart of our business and outstanding locations and the host venues contribute enormously to our event offering. Ending our race season at Atlantis, Paradise Island will be a wonderful experience and we will be hoping to race there for many years to come.
This 2019 version will be the second edition of the World Championships after the 2017 event was hosted in December 2017.
Atlantis, Paradise Island will provide a stunning setting for the high-speed action, which sees P1 partnering with one of the most amazing resorts in the world as well as with The Bahamas Ministry of Tourism and Aviation.
"It is the culmination of a lot of work over the past few months. It shows what we can do when we work together to bring world-class events to the destination and we should not place any kind of limit on what we can do," said Audrey Oswell, president and managing director at Atlantis.
"Atlantis is committed to continuing our work with the Ministry of Tourism and NPIPB and entities such as P1 to bring more of these events to Nassau and Paradise Island."
This year's AquaX World Championship will feature an international lineup of riders, with world-class racers from North America, Europe, and North Africa.
In addition to high-speed racing, Jason "The Destroyer" Stoyer will put on a series of freestyle exhibitions. The weekend of racing will be live-streamed on the P1 Aqua X Facebook page. This will include race commentary as well as the opportunity to comment live during the races and check back to watch live streams that have been missed.
Minister of Tourism and Aviation Dionisio D'Aguilar said the event comes at an opportune time as new initiatives in the country's sports tourism product will aide the post Hurricane Dorian relief effort.
"P1 conducted a broad search that would be just perfect. In your inspection tour of our destination, you found the right mix of features - an excellent sea race course in a sheltered harbour, a first class host resort with amenities for every taste and a full contingent of persons on the ground eager to assist you in making sure this championship is a resounding success," D'Aguilar said.
"We are just eight weeks out from historically the most destructive hurricane, which ravaged two of our northern islands, Grand Bahama and Abaco. Thankfully most of our islands were spared nature's wrath and are open for business as usual. We are now engaged in the beginning stages of rebuilding these two islands. To undertake this monumental task, we must rely in large measure on income generated from our largest industry, tourism. The expenditure will impact the host hotel Atlantis, taxi cab drivers, restaurants, stores, excursion operators, fuel vendors, in short, Aqua X World Championships is great for the economy of the Bahamas and will contribute meaningfully toward the rebuild of post Hurricane Dorian."
Tickets for the event start at $15 and can be purchased at the Atlantis Box Office at the Atlantis' Coral Towers by calling 363-6601 or via email at box.office@atlantisparadise.com