Thursday, October 3, 2019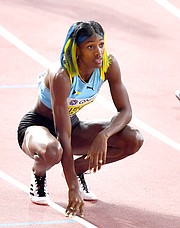 By BRENT STUBBS
Senior Sports Reporter
bstubbs@tribunemedia.net
DOHA, Qatar — One thing is for certain, the fans inside the Khalifa International Stadium got their money's worth as Salwa Eid Naser of Bahrain and Bahamian Shaunae Miller-Uibo put on a classic showdown in the women's 400 metres last night.
A world-leading time of 48.14 seconds for Naser, who delivered the knockout punch with the third fastest of all-time, was more than enough for the Bahrain national record holder to run away from the much taller Miller-Uibo, who had to settle for a North American, Central American and Caribbean (NACAC) area and Bahamian national record of 48.37 - the sixth best in history.
Only German Marita Kock's exhilarating world record time of 47.60 on February 18, 1957 and Jarmila Kratochvilova of the Czech Republic's 47.99 on January 26, 1951, were faster.
But while they drew closer to the controversial world record, Naser lowering her lifetime best from 49.08 and Miller-Uibo dropping from 48.97, neither woman expected the outcome to go the way it went down.
Naser, crowned the new world champion at the International Amateur Athletic Federation's 17th World Championships, said her aim was to win, but she was more surprised by the time she produced.
"Normally I chase people, but I was training so hard, I decided to go and try a different race tactic," said a delighted 21-year-old Nigerian-born Naser, who snapped Miller-Uibo's impeccable two-year winning streak.
After picking up Miller-Uibo on the stagger on the final curve, Naser shot down the home stretch like a rocket. By the time the 25-year-old Miller-Uibo attempted to go after her, it was a little too late.
"I give God all thanks and praise for allowing me to finish off strong with such a big PR," Miller-Uibo said. "48.3, I can't be disappointed in that. We came into the season knowing that we could drop 48 low and we just did that.
"We came out and we gave it our all. It was a very competitive race. I just can't be disappointed in it at all."
In taking second place, Miller-Uibio erased American Sanya Richards-Ross' NACAC record of 48.70 that she set in 2016 – and her own Bahamas national record of 48.97 that she established last year.
But looking back at the race running out of lane seven, Miller-Uibo said she saw Naser coming off the curve in lane five.
She tried to keep to the race plan. It just so happens that Naser's game plan worked a little better and it worked to perfection. "The time was pretty nice. It was a pretty impressive race," Miller-Uibo said. "I didn't panick. I tried to stick to the race plan. She just was the better runner tonight. She deserved to win the title."
While the match-up was clearly between the two combatants, Jamaica's Shericka Jackson moved in to claim the bronze in her personal best of 49.47.
The Americans followed with Wadeline Jonathas taking fourth in 49.60 and defending champion Phyllis Francis dropping to fifth in 49.61, but turning in personal best performances.
Her agent Clyde Bryan said whenever an athlete can walk away from a global international championship with a medal, you have to be appreciative of their efforts.
"Obviously, it's not the colour that the Bahamas nor Shaunae wanted, but you tip your hat to the winner," Bryan said.
"You acknowledge Shaunae's national and area record and you see that it's something that she can build on going into 2020."
Bryan said the goal is to get back to the drawing board and get Miller-Uibo ready for the Olympic Games in Tokyo, Japan where she will be defending her title won in Rio de Janeiro, Brazil in 2016.
This was Miller's third appearance on the podium at the championships, taking home her second silver medal in the quarter-mile. Shed duplicated the feat four years ago in Beijing, China and silver in the 200m two years ago in London, England where she also missed an opportunity for a 200/400m double with a fourth place finish in the one-lap race.
Bahamas Association of Athletic Association's president Drumeco Archer, one of the many to greet and console Miller-Uibo as she shared a moment with her family, said one is always gutted when the favorite suffers a defeat.
"But one good consolation is that she ran the best she could run, she was in the best shape she could find herself in," he stated. "Quite frankly, I don't think we could ask for me - a new national record and a new area record. That makes her the fastest athlete ever to be produced out of the NACAC area. So that's an amazing accomplishment."
Archer, however, said Naser rose to the occasion and defied the odds because, even after running five races, including two in the mixed gender 4 x 400m relay, to run a second faster than her fastest time is an amazing feat.
"I just don't know what more Shaunae could have done," he lamented. "She laid it on the track. That's all we could ask for. Disappointing, but hey, when you reach for the sky and you fall on the mountain top, I still think there's much more to be praised."
He congratulated Miller-Uibo on a job well done, indicating that she made the country and the BAAA very proud.
Miller-Uibo's father, Shaun Miller, said they came here to win it all, but they gave the best that she had to offer.
"To come here and run 48.37 was very impressive," he pointed out. "It shows the shape that she is in. With her being the warrior that she is, we came here to compete and we did just that."
Miller, however, said they when they saw Naser ran as much as she did in the rounds, they had a feeling that Miller-Uibo could pull it off. But she caught them off guard and now they have to go back to the drawing board and come back next year.
Miller-Uibo watched as her husband, Maicel completed the decathlon before she took any interviews. She got some more consolation when she gave him a hug and kiss at the finish line after he completed the men's decathlon with a silver medal.
"I think 48.37 is not an easy time to run. I'm very proud of her," Uibo proclaimed.