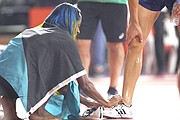 By BRENT STUBBS
Senior Sports Reporter
bstubbs@tribunemedia.net
DOHA, Qatar — It's very rare that you get to see a husband and wife compete on the same day and come out with the same medal in any competition.
Maicel and Shaunae Miller-Uibo accomplished that feat last night in the Khalifa International Stadium at the International Amateur Athletic Federation's 17th World Championships.
Shortly after she had to settle for second place in the epic women's 400 metre final that produced two of the top six fastest times in the history of the event, Miller-Uibo sat at the finish line and waited for her husband to complete the men's decathlon in which he also got a silver.
"Two of the same medals double the joy," was how Maicel summed up their day at work. "We both got it the same night. We will both go home with the same medal. We both had personal best performances, couldn't be more happier."
Except winning the gold.
But that's an understatement, considering what they achieved.
Miller-Uibo, in settling for the silver, ran a new North American, Central American nd Caribbean (NACAC) area and national record in clocking 48.37 to trail Bahrain's Salwa Naser, the gold medallist in a world leading 48.13. "I haven't seen the footage, but I saw the time. That was very good for her," Maicel said. "I saw her put in the work, so it's awesome. I can't wait to see the footage. I'm sure she executed it to the tee."
With the Olympic Games on the agenda for 2020 in Tokyo, Japan, Maicel said they will continue working hard to get on top of the podium. Miller-Uibo, who will be defending her title won four years ago in Rio de Janeiro, Brazil, was equally impressed by her husband.
Representing Estonia, Uibo finished the gruelling two days of competition in 10 events with a total of 8,604 points for 2nd place behind world champion Niklas Kaul of Germany with his PB of 8,691 points.
"We were very pleased with his performance. He had a very late surgery and he just started training again in February or March, so to come out with a silver and such a big PR is very impressive," Miller-Uibo said of her husband.
"He just put together a real good decathlon and so I'm very happy for him."
The couple, who met while attending the University of Georgia and got married at the Atlantis resort in 2017, will no doubt have double celebrations in Estonia and the Bahamas before they commence training for 2020.