Thursday, February 13, 2020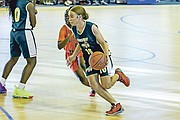 By RENALDO DORSETT
Tribune Sports Reporter
rsorsett@tribunemedia.net
BOTH junior divisions will go to third and deciding games in the BAISS basketball championship series as the Kingsway Academy Saints and Jordan Prince Williams Falcons staved off elimination against the St Augustine's College Big Red Machine.
In the Junior Girls, the Saints scored a 36-29 win while the Falcons Junior Boys also outlasted SAC 51-44.
Both game threes are set for 4pm this afternoon at Loyola Hall.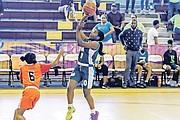 The Saints were led by the high scoring duo of Soliel Clarke and Claire Ferguson. Both finished with 15 points apiece while Charissa Taylor chipped in with six. Antonicia Moultrie led SAC with 10 points and Dr'Elle Johnson scored eight.
Taylor scored on a rebound and putback to beat the first-quarter buzzer and take a 7-4 Kingsway lead.
Moultrie, who scored 36 in a game one win for SAC, was in foul trouble for much of game two and picked up her third early in the second quarter with SAC trailing.
Johnson and Khovanne Woodside would step up with back-to-back scores to give SAC their first lead of the game (8-7).
Ferguson scored for Kingsway to regain the lead and Clarke added a jumper to go ahead 11-8.
Moultrie checked back in at the 1:27 mark, trailing 12-8, but Kingsway still closed the quarter on a 5-1 run to take a 17-9 lead at the half.
The Saints held SAC without a field goal for much of the third and opened up a 23-9 margin early in the period.
Trailing 29-19 with 4:20 left to play, Moultrie and SAC had a late run to come within six, when she found Johnson open for a baseline jumper.
Clarke would seal the win for the Saints down the stretch when she banked in a runner to regain an eight-point lead with just under one minute left in regulation.
In Junior Boys play, a stifling Falcons defence, timely shooting from Tayshawn Wallace and Barkley Cadet's dominance on the boards kept the Jordan Prince William title hopes alive.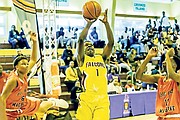 Late in the fourth quarter, the game was tied at 40, 42, and again at 44 before the Falcons closed on a 7-0 run.
In a final 2:30 that featured three ties and three lead changes, the Falcons went ahead for good when Wallace made the go-ahead three pointer with 44 seconds left to play.
After SAC came up empty on the following possession, Dane Beadle's putback put the Falcons up five and he tacked on another layup for the game's final margin.
Bradley Cadet finished with a team high 14 points, Tiore Cadet scored 13 and Wallace finished with 11.
Cayden King led the Big Red Machine with a game high 17 points and Brian Carey scored eight.
The Falcons led 10-9 after the first quarter and opened the second on an 8-1 run.
B. Cadet had a pair of offensive rebounds and putbacks, the second of which gave Prince Williams an 18-11 lead. King and Wallace exchanged late baskets and the Falcons took a 21-15 lead at the half.
The Big Red Machine erased the deficit when they won the third quarter 17-12 and trailed by just one point headed into the fourth.
"My guys knew how important this game was and they know how important game three is. SAC is a great team, they have great guards, they are well coached and they adjust well so we will have to be ready," said Falcons head coach Ernest Saunders.
"Everyone is going to bring their best, we just have to be a little better at the end of the day."