Tuesday, January 21, 2020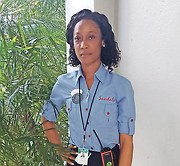 By ALESHA CADET
Tribune Features Reporter
acadet@tribunemedia.net
"Though she be but little she is fierce." This quote by Shakespeare fits Tanesha Jemison perfectly. At age 35, this petite mom-of-three has had her fair share of challenges – being abandoned by her mother at age five, a brush with assault, living in an environment which instilled fear in her, and an injury which changed the course of her career. But today, she believes her life is finally on the right track.
"Not having my mother around since I was a kid took a serious toll on me, especially in my teenage years," she said. "I even narrowly escaped assault. The environment I grew up in drove a lot fear into me, causing me to shun even people who were well-intentioned. I've had my fair share of setbacks, but I am now in my season of bouncing back."
Speaking with Tribune Woman, Tanesha explained how her professional journey, which started with her being a room attendant, took the unexpected turn of her becoming a security supervisor at Sandals Royal Bahamian Resort.
It was after suffering a shoulder injury that she was unable to continue in her previous post. A daunting change of department was required. And while her new job working in the resort's security department meant a huge change for her, Tanesha quickly realised that this was a step in the right direction and she was determined to do her best in this role.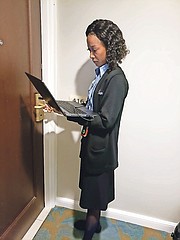 "I took to the position and within a short space of time I had mastered what was expected of me. I am now deemed a trainer in my area and am now armed with the capability and skill to train others," she said.
In her new post as security supervisor Tanesha is directly responsible for the scheduling of the security officers and ensuring that the company's resources are being protected.
Sandals Royal Bahamian's General Manager, Surinder Lucky Kahlon, said Tanesha represents the Sandals standard.
"She is a very polite young lady who goes about her duties with a lot of grace and heart. She exemplifies what the Sandals spirit is all about," he said.
Security and Loss Prevention Manager at Sandals Wesley Willie said Tanesha is a real an asset to the team.
"I've watched Tanesha as she works. She is very dependable, efficient and shows a willingness to learn. You can see that this is someone who has a goal. She certainly adds great value to the team here and I am happy that she feels that this is a breakthrough for her because she deserves it," he said.
Tanesha said her colleagues often ask about the source of her drive and determination. She always tells them it is her children and her late father who give her strength.
She has learned that nothing in life comes easy, but this does not mean you should run away from challenges.
"My challenges have taught me to appreciative of my journey and to celebrate even the tiny accomplishments, because while it may be minute to many, it is a win for me. From not having a mother around me from the tender age of five to finding that sense of belonging in society because my dad worked all over to provide for us... I changed high schools several times. That was also not easy for me. The way I grew up was not easy and that too has caused me to want to do my best for my children. I want to give them a better life than what I had," she said.
When it comes to juggling motherhood and excelling at work at the same time, Tanesha said it's not really that difficult.
"I work shifts and that gives me a lot of flexibility. It really is not hard, especially when your children are your driving force. They have to see me do well. They will realise that their mother is a superwoman, because I'm not missing a beat with them and I'm not dropping the ball at work," said Tanesha.
Her advice to young moms is to never give up on their goals: do all you can, while you can, with what you have, where you are. As a mother, Tanesha said, just do what you have to do without even thinking about what the other parent isn't doing. You just do your best and go the extra mile for your children.
For 2020, Tanesha said she is looking forward to meeting with her mother, whom she last saw when she was a child.
"I am the first of three children for my parents. My mother migrated to the States when I was five and I was raised by my father who died last July. I know that will be a very emotional moment, but that is what I want for 2020, nothing else," she said.