Tuesday, November 24, 2020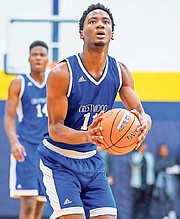 By RENALDO DORSETT
Tribune Sports Reporter
rdorsett@tribunemedia.net
ROMAD Dean is expected to continue his star climb for the Crestwood Hoops basketball programme this upcoming season as he makes strides towards diversifying his skillset.
The 6'7" forward looks to develop aspects of his perimeter game following a standout debut season in Ontario, Canada where he averaged a double double - 14.1 points, 13.6 rebounds and 1.3 blocks per game. He led the team in both rebounds and blocks.
"I was basically playing the role in the first year as the only 'big' on the team but I knew I had to strengthen my perimeter game and athleticism," he told the Hip Hoops podcast.
"I worked out with Galaxy Training. It was mostly me working on my confidence, my weakest part of my game was my ball-handling and I had to work on my jumper." His season was highlighted by a 21-point, 33-rebound performance in a win over J Addison Prep last November.
"My mentality was just to go after everything," he said. "After being free of knee problems and strengthening the muscle around my knees and the pain went away, my athleticism shifted," he added.
While interaction is limited due to COVID-19 protocols, Dean said he remains grounded both on the court and in the classroom.
"We're not able to scrimmage, we're just doing a lot of skills work and a lot of drills but there's no contact," he said.
"I talk to my dad and my mom everyday and they remind me to stay focused not just in basketball but with my schoolwork too so that keeps me motivated."
The 17-year-old has had major success as a Bahamas junior national team player and has now reportedly received 12 offers from Division I programmes thus far, including the Butler Bulldogs, Minnesota Golden Gophers, Arizona State Sun Devils, Ole Miss Rebels and Austin Peay Governors and more. Dean was also nominated for Canada's premier prep basketball showcase as one of 198 players named BioSteel All Canadian Games - 2020 Boys Nominees List.
He noted that he patterned his game after Bahamian basketball icons Chavano "Buddy" Hield and Deandre Ayton, but it was current Florida Gulf Coast guard Franco Miller Jr who opened the door to Crestwood.
Miller and Dean were former teammates with the Tabernacle Baptist Falcons before Miller matriculated to Crestwood to conclude his prep career.
"He opened the doors for me, telling coach Ro about me and coach Ro brought me up to Atlanta to play for his Grassroots Elite team in a tournament.
"He saw the potential in me, saw that I could play and the next year I joined the programme at Crestwood."
He hopes to create the same opportunities for other Bahamians following in his path.
"The process wasn't difficult, it was just a matter of getting your paperwork straight, but you've got to be able to play and you've got to be able to work hard," he said. "It's not easy over here."