Wednesday, November 25, 2020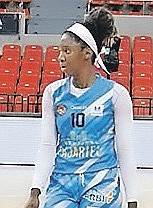 By BRENT STUBBS
Senior Sports Reporter
bstubbs@tribunemedia.net
Although her trek to Spain to begin her professional basketball career has not been a great one winning wise, Harbour Island native Lashann Higgs has been making the best of her appearances with the Embutidos Pajariel Bembibre PDM.
Higgs scored 10 points as Embutidos Pajariel Bembibre PDM lost a close 54-52 encounter to Kutxabank Araski on Sunday, dropping their eighth straight game to post a 1-10 record in the Spanish League.
"I felt as if it was a solid performance. There were times when I should have been more aggressive and attacked the basket, but other than that, it was a decent game for myself," Higgs said.
Despite their losing season, Higgs said there's still a ray of hope for Embutidos Pajariel Bembibre PDM.
"I felt as if we had a good game. There were a few times throughout the game that we made some mistakes at critical moments, but we played well together," she reflected on their latest performance.
The 5-foot, 9-inch guard and Embutidos Pajariel Bembibre PDM will be back in action on Friday when they take on Quesos El Pastor. Hopefully they can get back on the winning track.
"My expectations for myself would be to be more aggressive throughout the entire game, but as for my team and I collectively, I would say if we can lessen the amount of mistakes we make and stay as focused as we possibly can," she stated.
Embutidos Pajariel Bembibre PDM will take a break until December 12 when they play the first of five games up to December 27.
After taking the Christmas break, Embutidos Pajariel Bembibre PDM will return on January 3 to play their first game in the new year.
The regular season will wrap up on February 27.
"My team-mates and I are growing continuously. We just have to continue to work hard and put into action the amount of work we put in on our own and within the practice setting," she pointed out. "We just have to translate it."
The product of the Frank Rutherford Development Programme in Houston, Texas, who went on to attend Cedar High School and the University of Texas, has not had to worry about the translation of Spanish on and off the court.
"There are some people on the team that can speak both English and Spanish, so it isn't as hard," Higgs said.
What is hard is adjusting to life as a professional basketball player in Spain.
"My experience here so far is what I expected it to be with a few bumps here and there," Higgs summed up. "But that's expected in any new place you live in."
The 24-year-old Higgs certainly makes the best out of it.