Friday, November 27, 2020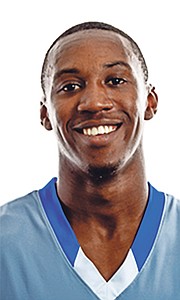 By BRENT STUBBS
Senior Sports Reporter
bstubbs@teibunemedia.net
D'SHON Taylor and Jaron Cornish are two of the few returning members from the Baha Mar men's national team's last appearance at the FIBA AmeriCup qualifiers and hope to use that experience to guide a new group in the latest window.
Taylor averaged 10.5 points, 3.5 rebounds and 2.5 assists in the previous window and scored 14 in February's win over Mexico. "I feel just as good as I did in the last window, given the limited time that we had with the quarantines back home. While we are here [in Indianapolis] we just had to make sure we get some of that rust off for this competition coming up."
The Bahamas faces the United States on November 29 and Puerto Rico on November 30 in Indianapolis, Indiana.
Taylor was one of the few team members who live in New Providence and struggled with preparation due to a lack of facilities because of government mandated COVID-19 restrictions.
"I probably overloaded the workouts a lot just given the time frame I had to work with. I think I got maybe two solid weeks of work in. Other than that I was just working outside in my yard, dribbling around the house, for me I always considered basketball like riding a bike, once you know how to do it you'll always be able to keep on doing it," he said. "I anticipate an adjustment period in the game. I can still remember the intensity level to actually get a win at this level. It's going to be a new feeling for the first few minutes in the game but I think from then on we will be pretty good."
Taking into account health protocols due to the COVID-19 pandemic, FIBA has decided to return to competition in a "bubble" format which allows for a more controlled and secured environment for teams to compete.
This format will also facilitate the implementation of governmental sanitary protocol required by many countries across the America's zone. Players, coaches and staff will go through strict testing and other protocols before arriving in Indianapolis and during their time at the event.
Despite the challenges in training and with several prospective team members unable to make the trip, Taylor said the team remains optimistic.
"I think our mood, it's pretty upbeat given the circumstances. I don't think anyone wants to go through these daily testings and being locked down. We can't go outside until next week, but we are just trying to mesh, get the chemistry right, because that's going to be important, especially in FIBA play. It isn't too much about individuals, it's more about the team coming together so I think so far everyone has been pretty positive."
Cornish finished with five points and a team high six assists in the win over Mexico. He averaged 4.5 points, 4.0 rebounds and 3.5 assists in the first window.
"Our mindset right now is everyone staying together, getting to know each other and doing whatever we can to come away with the win. We don't have much time to prepare so we have to do whatever we can to get ready," he said.
"It's still basketball. All of us know how to play, it's just a matter of us coming together and playing together. Like we won in The Bahamas I feel like we have that ability to win now."
Cornish is expected to take on a leadership role, particularly in the backcourt with childhood friend and highschool teammate and fellow Abaco native Godfrey Rolle III who is set to make his national team debut.
"We're excited to play together again and eager to get out there, it's been a while," Cornish said. "I try not to put too much pressure on myself, but I do feel like it's my job to help bring everybody together since it's not much of us here with the experience so whatever I can do to help us play together, that's what I'm going to do."