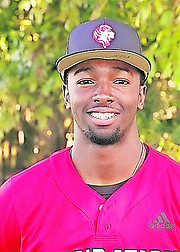 By RENALDO DORSETT
Tribune Sports Reporter
rdorsett@tribunemedia.net
SEVERAL Bahamian student athletes have joined a rising baseball programme in Bradenton, Florida, and have keyed its statewide recognition.
Adrian "Ace" Edgecombe, Shimonte Bain, Kayden Dean and Brent Burrows have led the Inspiration Academy Lions to a 20-4 record thus far and ranked No. 20 in the state of Florida and No. 113 nationally by Max Preps.
Inspiration describes itself as a "transformational" school that offers baseball, softball, tennis and golf academies within its faith based structure.
Each of the four players are products of the International Elite Sports Academy.
"We play so much more games and it's so much more competitive. But it's going great so far," Edgecombe said, "We push each other everyday. We workout every day. Since we came here I think we've had one off day. We're always after it. When we get done with school work we hit the gym, or we're in the cages, long toss or sprints. We always try to push each other to get better everyday. That's what we did at iElite and that's what we want to continue to do here."
Burrows, a Grand Bahama native, said his second relocation has been aided by being a member of the incoming group.
"It's a big change. At iElie we practice more, and we condition, but we don't get an opportunity to play in as many games. Conditioning here is easy but the game speed of gameplay is kind of tough so I just have to catch up on that," he said, "Being here with the other Bahamians, with all of us coming from the same programme it made things so much easier. It helped me to adjust with familiar faces. I always have friends around and it's not just trying to adjust with strangers."
Dean added: "It's been a smooth transition. The training we had at iElite was tough but it was worth it because we came in ready to succeed. We all knew each other for a while, it made the whole process even more stable and comfortable. We support each other as much as we can, both mentally and physically.
The 10th grade outfielder said he looks to improve the mental aspects of the game as he prepares for the next level.
The Lions are currently competing in the National Classic, hosted by IMG Academy in Bradenton. They opened the tournament with a loss to Florida's No.16 ranked team, Canterbury High, but rebounded with a 10-4 win over MSD Academy on day two. Their next matchup will be against the state's No.4 ranked team - Lakeland.
Edgecombe, the 11th grade outfielder, said while the pandemic limited recruitment at the professional level, he remained eager for an opportunity to continue to develop his game.
"Once COVID came the scouts weren't really travelling as much and some teams wanted me to have more at bats and more games. They wanted to see my swing improve more so it was one of the major reasons I went this route. I'm able to get more knowledge of the game, see my skills improve," he said, "Improving my swing is the one thing scouts talked to me about. Once I do that I will be in a good spot for the next level. Right now we all have dreams of becoming pros so we work hard every day, we push every day."
Burrows said it is important for young players to remain ready to perform at all opportunities. He previously received the top honour at the iRecruit Athletic and Academic College Recruiting Showcase in 2019 and said the opportunity to join Inspiration came about as a result of showcases in West Palm Beach, Florida.
"Baseball slowed down with COVID, this allows me to pursue baseball and my academics at a higher level. I researched Inspiration, I liked the environment, I think it was a great choice," he said, "I really want to improve my hitting, it's not bad where it is but I want to make it for the next level. I know I'm not there yet but I'm sure with work I will get there ."
Inspiration's Baseball Academy was founded in 2013. Led by Director and hitting coach, Mario Jimenez, the programme has won two state championships (2018-19).