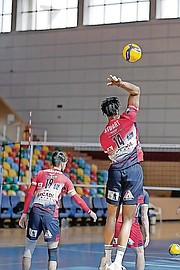 EUGENE Stuart has had an immediate impact on Arca Galati of Romania's Divizia A1 and helped lead the team to a standout regular season and playoff berth.
Stuart finished with six kills, three blocks and one ace in his team's straight set win over Timisoara earlier this week (25-10, 25-15, 25-20).
With the win, Arca Galati improved to 18-2 (55 points), the top record in the league standings, two games ahead of second place Steaua Bucuresti at 16-4 (46 points).
"My goal for the season is to enjoy the experience. I am playing in the champions league so I want to make the best out of it. I want to play the best that I can," Stuart told the Tribune in the offseason.
"I want to enjoy being in a different country. I know it is a big opportunity and I want to stay healthy."
The 23-year-old middle blocker spent last season with Karelian Hurmos in the Mestaruuliiga league in Finland before he reached a long-awaited deal with the Romanian club to play in the CEV Champions League.
The 2015 St Augustine's College graduate went on to star for the University of Charleston, West Virginia, and graduated with his bachelor of science degree in sports business.