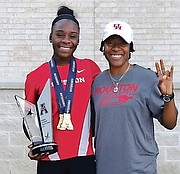 By BRENT STUBBS
Senior Sports Reporter
bstubbs@tribunemedia.net
UNIVERSITY of Houston Cougars' red-shirt junior Brianne Bethel led a Bahamian track and field contingent in action over the Easter holiday weekend with a dominating record breaking performance in Houston, Texas.
Charisma Taylor, Sasha Wells, Gabrielle Gibson, Damazvia Dames and Tamar Greene were also in the spotlight with victories in their respective events at different meets in the United States of America.
Bethel shine in Houston
With her parents, Claudette and Brian Bethel, twin sister Brittni and niece Abby in the stands cheering her own, the Grand Bahamian posted her feats in the 200 and 400 metres as well as on the University of Houston Cougars' 4 x 100 and 4 x 400m relays at the Houston Alumni Invitational.
Back at full strength after sitting out the past two seasons because of an injury, Bethel also led a Bahamian-American cousin combo in Texas.
"That was my season opener from a year ago, so I'm just happy that I still have it and I can put it together," she said. "I did the 4 x 100 and 4 x 400m last year, so mentally I didn't know if I could do it by myself.
"I am happy. I feel like I have all of my confidence back and I'm just ready to run at the end of this season in the NCAA and hopefully at the Olympics."
The 22-year-old Bethel clocked the 11th fastest time in NCAA this season in 52.98 seconds to erase the first meet record of 54.18 in the women's 400 metres.
She beat out the field that included Jazmyn Tilford-Rutherford, a senior at Houston, who was ninth overall in 59.86.
Bethel came back and posted the 14th fastest NCAA time of 23.18 to shatter her second record in the women's 200m. The previous mark was 23.89.
Tilford-Rutherford, the daughter of Melissa and Bahamian Olympic bronze medalist Frank Rutherford, was 12th overall in 26.18.
Before she was done, Bethel ran the second leg on the Cougars women's 4 x 400m relay that included Camille Rutherford on pop off with Cecilia Tamayo-Garza and Tristan Evelyn on third and fourth legs as they won in a meet record time of 3:49.01 to replace the previous mark of 3:49.79.
Earlier in the meet the same quartet in that same order won the women's 4 x 100m relay in 43.68 for the third-fastest time in the NCAA; matched the third-fastest time in Houston's program and erased the meet record of 44.39.
Camille Rutherford, a freshman out of Richmond. Texas, is the daughter of Demetria and Chad Rutherford, the brother of Frank Rutherford.
Taylor doubled dose of victory
Washington State's junior Charisma Taylor came out of an impressive indoor season by doubling up with victories in the women's 100m hurdles and triple jump at the Hayward Premiere in Eugene, Oregon.
"My events were okay even though I wasn't happy with my performances, but that's all in the sport," Taylor said. "I just have to learn from it and move on.
"The competition was alright. It wasn't a high level of competition, but it was good to get a feel of the new track."
As she helped to christened the new track in the 100m hurdles, Taylor stopped the clock in 13.52 for her first victory. Her closest rival was Oregon's Alexa Webster, who did 13.83.
Taylor, a 19-year-old former standout for Queen's College, came back and exploded to victory in the triple jump with a leap of 42-feet, 05 1/2-inches (12.94 metres) on her second and fifth of her six attempts.
Anneke Moersdorf of Oregon State was second with 12.17m on her fourth attempt.
Wells, Gibson and Dames win in Arlington
Oral Roberts' senior and team captain Sasha Wells won the women's 100m at the 2021 UTA Invitational in Arlington, Texas in 11.66. Damazvia Dames, a freshman at Fort Scott Community College, was 11th overall in 12.31.
Wells went for a double in her specialty in the 100m hurdles, but didn't finish the race. Her team-mate Gabrielle Gibson, a junior, pulled off the win in 13.69 with freshman Indea Cartwright fourth in 13.90.
"I didn't get a chance to practice my hurdle starts much this week, so I think that played a part," said Wells of her performance in the hurdles.
"I didn't push out like I should've to make the hurdle. I'm okay physically though. Next weekend, we're in Texas so I hope to go for my PR there."
Gibson also contested the 400m hurdles where she was sixth in 1:05.35. Melissa Gonzalez of Team Dabbs cleared the ten flights of hurdles in 57.04 for the victory.
Lakelle Kinteh (pop off), Gibson (second), Victoria Neville (third) and Wells (anchor) got second in the women's 4 x 400m relay in 46.64. Fort Scott Community College won in 46.51.
Cartwright ran the second leg on Oral Roberts' 4 x 400m team of Tay'Maro Powell, Madolyn Palodichuk and Alexa Granderson was fifth in 4:05.91.
Team Dabbs won in 3:39.00.
Dames, who was also ninth in the 200m in 25.22 as Samantha Gonzalez of Team Dabbs won in 23.67, had her biggest accomplishments on the field.
In the triple jump, Dames soared to victory with her leap of 40-11 3/4 (12.49m) on her sixth and final leap. Juleen Lewis, a junior at Ut-Arlington, was second with 37-10 1/2 (11.54m).
Dames also had a showdown with Kinteh in the women's long jump. Dames came out on top with third place with her best of 18-7 (5.66m), while Kinteh was seventh with her best of 18-2 1/4 (5.54m).
Allison Halverson, competing unattached, won with 19-5 1/4 (5.92m) and Lewis got second with 19-4 3/4 (5.91m).
On the men's side, Cordero Gray, competing unattached, was third in the 100m in 10.39 with Ethnie Stubbs, a freshman at Fort Scott Community College, coming in 21st in 12.36.
The winning time was 10.31 by Aldrick Bailey of Team Dabbs.
Gray also got second in the 200m in 21.23 as Davontay Kennedy, a freshman at Ut-Arlington, won in 21.08.
Ethan Hanna, a freshman at Oral Roberts, was 11th in the men's 400m in 49.40. Tarees Rhoden, a sophomore at Oklahoma Baptist, won in 47.99.
Stubbs ran the second leg on Fort Scott men's 4 x 100m relay that picked up third place in 41.51. The team members were Jarvis Miles, Daemarquez Willis and Jordan Collins.
North Texas won in 39.94.
And Hanna led Oral Roberts men's 4 x 400m team of Cameron Neely, Aaron Charlton and Devin Simon to second place in 3:14.93.
Oklahoma Baptist won in 3:14.47.
Greene Triumph in Jacksonville
Tamar Greene, a senior at Purdue University, won the men's triple jump at the Big 10 North Florida Hawkeye Invitational in Jacksonville, Florida with a leap of 52-6 (16m) on his fifth attempt.
James Carter of Iowa was right behind in second with 52-3 2/3 (15.94m).
Two Bahamians went head-to-head in the men's 100m with Purdue's Samson Colebrook running 10.27 for third place to hold off Ohio State's sophomore Adrian Curry, who trailed in fourth in 10.38.
Moss finished ahead of Anderson in Florida
At the 2021 Pepsi Florida Relays at the Percy Beard Track at the University of Florida over the weekend, University of Kentucky's sophomore Megan Moss transgressed from indoors to outdoors in the 200/400m combo.
Competing in heat four, won her heat of the women's 200m in 23.88 for 13th place overall. Florida's sophomore Doneisha Anderson placed fourth in heat three in 24.29 for 19th overall.
Tamara Clark, a junior at Alabama came through in 22.50 in heat one for the fastest time overall.
In the 400m, Moss had the tenth best time of 52.96. Kaelin Roberts, a senior at the University of South Carolina, won the event in 51.23.
Kentucky, coached by the Bahamian duo of head coach Rolando 'Lonnie' Greene and assistant Golden Girl Debbie Ferguson-McKenzie, saw Moss lead their 4 x 400m team of Abby Steiner, Celera Barnes and Dajour Miles to victory in 3:29.91.
Anderson, running the third leg for Florida with the threesome of Taylor Manson, Talitha Diggs and Lauryn Ghee, was fourth in 3:32.66.
Gaither Fifth in Texas
At the USATF Sprint Summit at Prairie View A&M in Prairie View, Texas, sprinter Tynia Gaither had to settle for fifth place in the women's 100m.
Representing adidas, Gaither ran 11.71 for fifth place in the last of two heats. American Morolake Akinosun, competing for Nike/TBBTC, won the heat and the event overall in 11.26.
Gaither was also listed for the 200m, but she opted not to compete as American Gabby Thomas, representing New Balance and TBBTC, won in 23.04. Akinosun was second in 23.45.Thomas was second in the 100m in 11.38.
In the 4 x 100m, Gaither anchored the All-Star Red team of Cindy Sember, Gabriele Cunningham and Caitland Smith to second place in 45.94.
The Star Athletics' team of Kortnei Johnson, Javianne Oliver, Dezerea Bryant and Sha'Carri Richardson took the victory in 42.70.