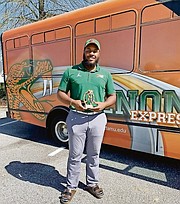 By RENALDO DORSETT
Tribune Sports Reporter
rdorsett@tribunemedia.net
CAMERON Riley and his Florida A and M Rattlers continue to solidify their standing as the top HBCU programme in NCAA Division I.
Riley won the individual title, the first of his NCAA career, and his Rattlers team took first place at the Black College Golf Coaches Association (BCGCA) Historically Black Colleges and Universities (HBCU) Invitational for the second consecutive year.
The Grand Bahama native shot a season low 4-under par 138 (69-69) to claim the individual title and his Rattlers won the tournament by 25 strokes at the Eagle Ridge Golf Club.
"It's very significant to black golf in America, it's one of the few tournaments where all the best HBCUs in the country come together and we battle it out to see who's on top of their game. It's so significant because it brings a sense of camaraderie that you don't feel at any other tournament, playing with people that look like you and that are actually pretty good."
FAMU was the only team to shoot under par, shooting a 1-under par 567 (282-285) in the two-day tournament. In individual competition, the Rattlers occupied the top four spots with all five golfers finishing in the top 10.
This season, the Rattlers finished sixth out of 13 teams in the Donald Ross Collegiate Classic and a third place finish in the Invitational at Savannah Harbor, hosted by William and Mary. It was the highest FAMU has ever placed in the 16-team tournament.
"I've been at FAMU for five years and I can tell you that the growth we've had and the respect we've developed in that time has been a 180 degree change. It's been crazy. Being a part of this legacy is great," Riley said.
"Last year we won five tournaments in a row and we were one of the only HBCUs to do that and that is unheard of in college golf. Knowing that we are minorities and we are always competing with these PWIs (predominantly white institutions) and we are beating them, it's special. I appreciate the coaches for helping me get to where I am. I feel honoured to be a part of it. We went from five guys on the team and struggling to compete to a team of 11 guys and winning just about every tournament."
Riley is currently ranked at No.5 on the Advocates Professional Golf Association (APGA) Tour Collegiate Rankings.
The APGA Collegiate Ranking will ease the financial costs associated with playing developmental tours as well as application fees for the Korn Ferry Tour Qualifying Tournament.
With his ranking, Riley has an opportunity to earn APGA Tour membership, entry into all remaining APGA Tour events, travel costs associated with each APGA Tour event, exemption into the Korn Ferry Tour Qualifying Tournament and Pre-Qualifying Stage unless otherwise exempt into another Stage.
Riley, who got his start in the game at 10-years-old, joined the BGF junior programme and represented the country at various events.
"Following a CAJGC event, I got lucky enough to earn an opportunity to go to the Gary Gilchrist Academy in Florida and it really opened my eyes to the competition level around the world.
"In America, it's so much easier to get better at golf. In the Bahamas, it's difficult because you are so limited. You have Albany, Ocean Club, and Royal Blue, but all of those are really expensive.
"In America, I can go play a round of golf for $30. It showed me that if I could go to America full time I could get pretty good at the game. And around that time when I moved to America at age 14, I took the game seriously.
"Once I went to Lake Mary High school and made the team, it took off from there. Without the exposure of moving to America, I wouldn't be where I am today."
Riley said he will continue to be an advocate for junior golf in The Bahamas with issues of accessibility and training key factors in the development of a future generation of golfers.
"I feel very strongly about junior golf in The Bahamas because I was there and I experienced so much first hand and saw what happened. I was happy to hear about the inter-school golf tournament, it shows young people there are more sports out there they can pursue and a great step in the right direction.
Georgette Rolle's Fourteen Clubs Golf Academy is also a step in the right direction but there's still so much work left to be done," he said. "Being in America and seeing what the juniors have here compared to what we have at home is such a huge gap. Accessibility is a major issue we need to work on in The Bahamas. I know some of the courses have tried to fix that, but there's still a long way to go. You have to give junior golfers a place to play every day so they can play nine holes every day. I believe the BGF should really invest in the youth and send them to travel so that they can open their eyes to the competitive gap. When I was a junior I was winning every tournament at home by a couple of shots, but when I came here I was getting lapped by the field and it opens your eyes."