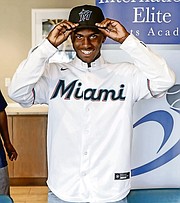 By RENALDO DORSETT
Tribune Sports Reporter
rdorsett@tribunemedia.net
STEVEN Adderley became the latest Bahamian prospect to join the Miami Marlins' farm system.
An 18-year-old outfielder out of the International Elite Sports Academy, Adderley was joined by family and Marlins executives at his official signing.
The Grand Bahama native joins big league starter, Jazz Chisholm, Ian Lewis and Andre Arthur with the Marlins.
"This is a dream come true. When I moved to Nassau and joined I-Elite it was always about go time and what I have to do to get to that next step," Adderley said.
"It feels good to be a part of an organisation with someone who has made history already like Jazz, I look up to him. I talk to Ian, worked out with Andre so it's good to come into the organisation and have a relationship with those guys already."
Adderley spent his early years at Sunland Baptist before he relocated to I-Elite.
"I started playing baseball at about three, when I moved to Nassau to join I-Elite it was a little hard on my parents but for me, it was always go time, my mindset was always on the next big thing, and now it finally happened, Coach Geron [Sands] and Coach Albert [Cartwright] are a big part of that.
I-Elite was founded by directors Sands and Cartwright. It provides an avenue for players between the ages of 11 and 17 years an opportunity to hone their skills with the view of playing at the professional level.
Adderley said he managed to stay grounded inspired by a verse often shared by his mother - Philippians,l 4:13.
"Keep working, don't give up," Adderley offered to other players chasing the major league dream, "There is always going to be a chance somewhere for you if you continue to keep working."
Fernando Seguignol, Director of International Scouting for the Miami Marlins said Adderley's skillset was something the organization had on its radar for several years now.
"We saw his body of work on the field. He's the kind of outfielder that we think can bring instant impact to the organization. We're talking about plus speed, bat speed…those are impressive, but then when you talk to him you can see his family foundation is strong, credit to his parents. These are the type of players we look at bringing," he said, "He's a player that was on the radar for many many organizations. We were just fortunate to stay and stick with the process and finally get it done."
Adderley became the third Bahamian and I-Elite prospect to sign during the current International Signing period following Adari Grant (St. Louis Cardinals) and Evan Sweeting (San Diego Padres).
"We're close by, it's natural that we have this relationship. We are working on having an impact in the community and having Bahamians build that relationship on and off the field. Imagine having a full roster of Bahamians in our organisation, that would be beautiful," Seguignol said, "There are great players here, with their background they fit culture-wise and we hope it continues to work well for us."