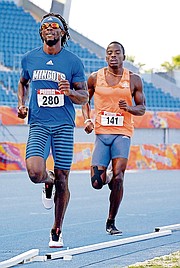 By BRENT STUBBS
Senior Sports Reporter
bstubbs@tribunemedia.net
IT came down to one event and two points as University of the Bahamas Mingoes' junior Kendrick Thompson erased Power Athletics Ken Mullings' national decathlon record.
The two friends and arch-rivals went head-to-head in the ten multiple event competition over the weekend at the Bahamas Association of Athletic Associations' Easter Track Classic that also featured Swift Athletics' Jqlen Cadet in the octathlon (eight events) at the Thomas A. Robinson National Stadium.
At the end of the two-day event on Sunday, Thompson accumulated a total of 7,644 compared to Mullings, 7,642, shattering the previous decathlon record of 7,427 points.
Mullings achieved the mark as a former UB team member over the weekend of April 12-13, 2019 at the University of Miami Hurricane Alumni Invitational in Coral Gables, Florida.
"I feel pretty good about it, but I was expecting more. based on my training," Thompson said, "I'm really happy with it."
As for his epic showdown with Mullings, Thompson said anytime they get on the track to compete, you could expect it to be a competitive one.
"Some events he's really strong in and I'm weak in and some events I'm really strong in, he's weak in," said the 23-year-old Thompson, who is studying Physical Education.
"I try to stay with him because when I have my strong events, I try to increase my points so I can stay with him."
At the end of Saturday's first day of the first five events - 100m, long jump, shout, high jump and 400m - Mullings surged out by 63 points with a 4015-3952 advantage.
When competition resumed on Sunday, Thompson was able to close the gap as they competed in the first four events - 110m hurdles, discus, pole vault and javelin.
Mullings went into the final event in the 1,500m with 7,017, compared to Thompson's 6,994. Down by 23 points, Thompson pulled off the 3 3/4-lap race in four minutes and 44.82 seconds to secure 650 points for the win.
Thompson's time of 4:48.89 scored him just 625 points as he fell short by two points.
"I already had it in my head that I had to put at least 20-30 metres between us in order to win it," Thompson said. "I just went for it."
In securing the national record, Thompson said he was able to post a personal best in the javelin with 63.74m and the long jump with 7.39m along with the 1,500m.
"I'm really happy with my second day performance," Thompson said. "Plus, it was a lot warmer today (Sunday) than it was yesterday (Saturday)."
Going into the competition, the 23-year-old Mullings said he anticipated that he would have emerged as the champion, but it just wasn't his day.
"If you think you're going to lose it, then you have already lost," he said. "So I went into it believing that I would win. I still believed that I could have and should have won. The better man won on that day."
Having lost points based on some technical aspects he has to work on like his approach in the long jump and getting the height of the discus to flow much better.
"I'm physically in shape to score a lot of points, but I still have to knock off some web to score more points," said Mullings, who is trained by both UB's head coach Ednol Rolle and Power Athletics' coach Sherman Dames.
And although he lost, Mullings warned Thompson that he will be back to content for the crown as the Bahamian champion of the multiple events.
"If I gained 100 points in one of my strong events, he would gain 100 points in his strongest event. So at the end of the day, whoever wanted it more will win," Mullings said.
"It will probably be like that for the next couple of years with the national record just changing hands between us. We are just that competitive."
Following in the footsteps of Mullings, who set the record as a member of UB, Thompon said he's pleased to have accomplished the feat for the Mingoes.
"It's a great programme," he said. "We just have to have the confidence in ourselves that we can do it here at home. I wasn't as confident as coach Rolle was telling me at first, but I truly believe in it."
And watching Thompson excel to the top, Mullings said it just shows that whether he's there or not, UB is still producing dominant athletes.
Rolle, who coached Mullings when he set the record, said it's good to see Thompson, who he now coaches at UB, following in his shoes.
"They complimented each other," Rolle said. "At one point in the decathlon, they had a tie score. That's how close this was. From the beginning to the end, this was close.
"I told both of them that I know I trained them, but the best man will win, so go for it. You have ten events and if you mess up in one, just pick yourself up and get ready for the next event."
Rolle said it only proves that Bahamian athletes can succeed here at home.
"A lot of the Bahamian student-athletes want to go abroad to train and compete," Rolle said. "But we have the talent here. Training here at home, we can do it just like the Jamaicans and the Americans do.
"I know a lot of people look at the USA as an opportunity, but we have a gold mine here with some great coaches, who can get the best out of athletes. We just have to believe in the programme."
Rolle said UB is an institute that is proving that local athletes can break national records and qualify for the Carifta Games and the other major international events right here at home.
"We've come from far, but I think the president (Dr Rodney Smith) and the Athletic Director (Kimberley Rolle) are both doing a great job in getting us prepared to compete in the NAIA Conference," Rolle said.
Thompson's performance in the decathlon: 100m (10.99 - 863 pts), long jump (7.39m - 908 pts), shot put (12.52m - 638 pts), high jump (1.95m - 758 pts), 400m (49.28 - 848 pts), 110m hurdles (14.67 - 890 pts), discus (39.28m - 650 pts), pole vault (4.10m - 645 pts), javelin (63.74m - 794 pts) and 1,500m (4:44.82 - 650 pts) for 7,644 total points.
Mullings' performance in the decathlon: 100m (11.04 - 852 pts), long jump (6.96m - 804 pts), shot put (12.60m - 643 pts), high jump (2.06m - 859 pts), 400m (50.45 - 794 pts), 110m hurdles (14.17 - 953 pts), discus (39.55m - 655 pts), pole vault (4.60m - 790 pts), javelin (55.25m - 667 pts) and 1,500m (4:48.89 - 625 pts) for 7,642 total points.
Cadet's performances in the octathlon - 100m (11.04 - 852 pts), long jump (6-09m - 606 pts), shot put (10.20m - 498 pts), 400m (55.11 - 594 pts), 110m hurdles (16.52 - 675 pts), high jump (1.60m - 464 pts), javelin (46.04m - 530 pts) and 1,500m (5:40.33 - 350 pts) for 4569 total points.