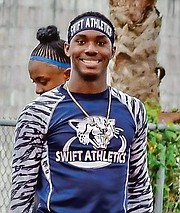 By BRENT STUBBS
Senior Sports Reporter
bstubbs@tribunemedia.net
HE has produced times so far this year that are faster than the under-20 competitors, but Swift Athletics' head coach Andrew Tynes said Carlos Brown Jr's performances are just a tip of the iceberg.
On Saturday at the Bahamas Association of Athletic Associations' Easter Track Classic at the Thomas A Robinson National Stadium, Brown Jr clocked 10.39 and 21.49 seconds respectively to win both the under-17 boys' 100 and 200 metres.
The 15-year-old has now qualified for both the postponed CARIFTA Games to be staged in Hamilton, Bermuda, and the World Athletics' Under-20 Championships in Nairobi, Kenya, all in August.
Looking at the performances of the 10th grader at St John's College, Tynes said it's remarkable.
"It wasn't a shocker to me because from last year, I really knew that he was going to do something special," Tynes said. "But because of the coronavirus pandemic, it really hampered what was going to happen.
"But if he had really trained during the off season last year, he would have been much better. I felt that the pandemic did something to us as a country because all of the kids would have been ready for the Nationals to turn in some great performances."
Having been there and done it, qualifying and competing for the Bahamas from the CARIFTA to the Olympic Games, Tynes said he's going to properly guide Brown Jr and the rest of his athletes through the season so that they won't peak before August.
"After they compete in the DTSP Wolf Pack Meet this weekend, I will break them down for about two weeks, hold off on the speed training and get them back into the weight room to get them stronger," he pointed out.
"We won't do any more sprinting until about a week or two before they get ready to compete again. Not many coaches know how to do that. But I can do it because I went through it as an athlete."
Having had a chance to groom Brown Jr and the rest of the members of Swift Athletics, Tynes said they possess just as much talent as he did when he competed against guys like Marcus Knowles, Sherrif Roberts, Darren Bodie before he faced senior competitors like parliamentarians Iram Lewis and Renward Wells.
But he said the difference was the fact that there were less distractions for his rivals, so they were more focused on competing.
Nowadays, he noted that there are a very small percentage of athletes who want to be good and Brown Jr is one of them. "From the 100m to the 5,000m and to the hurdles, everyone who competed when I did were solid," Tynes reflected. "There were no easy races that you could go in and walk away as champions.
"That was one of the reasons why we were able to go away to CARIFTA and other meets and be so successful in the junior competition. Right now, there are only a handful of competitors who are taking it seriously."
Looking at Brown Jr and the way he's progressing, Tynes said he sees a mirror of himself. "Last year, I was teasing my guys, asking them which one of them think they would be able to run faster than me when I was their age," he said. "Carlos said he will. I did 21.6 when I was his age, but he has surpassed me.
"I also challenged Samson Colebrook, who is now at Purdue. I teased him about trying to surpass me when I was at Texas El Paso and was a collegiate champion. I want to see if he can be a collegiate champion too."
Tynes, in his senior year at UTEP, won the NCAA Outdoor Championships' 200m title in 1994 in Boise, Idaho, in a wind-aided 20.20 over Aki Bradley of Mississippi in 20.27 with Tony Wheeler of Clemson third in 20.30.
The former national record holder at 20.22 in the event went on to represent the Bahamas at two Olympics in 1996 in Atlanta, Georgia and 2000 in Sydney, Australia.
However, he never made it to the final in the 100 or 200m.
The 49-year-old Tynes, who starred for the RM Bailey Pacers, would also compete in three World Championships in 1995 in Gothenburg, Sweden, 1997 in Athens, Greece and 2001 in Edmonton, Canada where he primarily competed on the men's 4 x 100m relay team.
Having been coached then by former national record holder and 1988 Olympian Fabian Whymns, Tynes said he's grooming Brown Jr to be the next great Bahamian sprinter to come out of the Bahamas.
"I think he has the potential to run at least 10.2 and even challenge for a spot on the Olympic team for the relay, if they were to take a team," Tynes said.
"He has the potential right now.
"He hasn't had a heated race yet. He has asked me to let him run in the open division, but I told him not yet.
"He hasn't been pushed to the limit. He's a different breed. The time isn't right for him to step up yet."
Brown Jr is now running with a heavy heart, having lost his father Carlos Brown Sr after he was shot to death. He has dedicated the rest of his season to him in his memory.
"I'm trying to do everything to make him proud," he said. "I want to drop my times in both the 100 and 200m. I think I'm in the right place with the right coach because he's been there and done it and he knows what it will take for me to get there."
Together, Tynes and Brown Jr are blazing the track.