By FARRAH JOHNSON 
Tribune Staff Reporter 
fjohnson@tribunemedia.net
SEVEN asylum seekers, including a mother who was separated from her young child for over a year, were yesterday released from the Carmichael Road Detention Centre after being detained at the facility since May 2019. 
Their release came nearly three weeks after Calendars & Co filed an action against the government ordering them to prove that it acted lawfully when officials detained the refugees who sought to take refuge in the country after fleeing Cameroon over fear of persecution.
At the time, a Supreme Court judge granted Fred Smith, QC, leave to issue a writ of habeas corpus against Attorney General Carl Bethel, Immigration Minister Elsworth Johnson, Immigration Director Clarence Russell and Peter Joseph, the officer in charge of the Carmichael Detention Centre, who were in turn, given until April 7 to file a return explaining the reasons the asylum seekers had been detained indefinitely.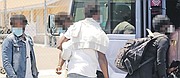 The Tribune understands the return was never filed. However, during a virtual hearing before Justice Bernard Turner, Keith Cargill, the attorney representing the respondents, said the government had made arrangements to release the refugees.
After spending nearly two years in custody, the detainees were finally allowed to walk out of the gates of the Detention Centre shortly before 2pm yesterday.
When they spoke to reporters, they said they were shocked by the "brutal and hostile" treatment they received at the facility and were traumatised by the entire ordeal.
"It's traumatic, I really can't talk much," one asylum seeker stated. "I would say it's shocking. I really didn't believe that in a country like the Bahamas you could experience so much cruelty. It was a systematic cruelty abuse of all sorts...The truth about it and the conclusion about it is that the whole experience is traumatic (and) we're going to take several weeks and months to come out of this situation." 
The man said they "assumed the country was a safe territory" because it was advertised in the media as a destination where Hollywood stars travelled and purchased cays. Still, he said their experience "thus far" was far from anything they could have ever imagined. 
Among the asylum seekers was also a mother, who said she had been separated from her now three-year-old daughter "for close to a year".  In November of last year, the woman was remanded to prison after she was charged with an offence in the Magistrate's Court. However, nearly four months after she first appeared in court, the charges were dropped and she was released.
When asked what it felt like to finally be reunited with her daughter, she stated: "I feel very good, (it is) the most happiest thing that has happened to me since almost two years now. Having her back is really, really a joyful thing for me (and) I still can't handle the excitement.
"For the first time when she saw me, she burst into tears...They always tell me your baby is well taken care of and stuff, but the first day that I took her, even the officers that were on duty with me that day, they saw that the baby wasn't really, really taken care of because she was a very chubby baby, but right now (she's) very slim." 
The group said they came from a community that held "childbearing" in high esteem and could not understand "how a mother and a child could be separated for up to a year". They also said it was "unfortunate" that when the pair were reunited on April 1, it was done in a "brutal manner".
To make matters worse, the male refugee said the group was also restless because "nobody knew where the baby was" and they heard there was an incident at the Children's Emergency Children's Hostel earlier this year where children had allegedly been abused. 
"I would say it's fortunate that though we don't have access to communication, somehow information gets to us and that particular incident gave us sleepless nights," the male asylum seeker said. "Now there is no evidence (the baby) was not a victim of cruelty under the custody of the Bahamas government. A baby like this can't talk too much...but if one child has been beaten, then the righteous conclusion is that (the child) has been poorly treated.
"I don't know if I should consider the Bahamas a western country or what because before I was coming to the Bahamas I thought it was really, really civilised, but the kind of brutality and hostility that we've received in this Carmichael Detention Centre only tells me that I have found myself somewhere around Saudi Arabia."
The man said while they were detained at the facility, officials gave them the impression that "very basic needs" like communication were a privilege and not a right. 
He said: "I look forward to compiling some of the experiences we've had...The reports I hope to release I think (would) be a feedback for the government to check the bureaucracy of the Immigration Department. The kind of officials that are being employed, their language, everything about them has to be checked. 
"It's important for a country like this because in my opinion this is an international zone. The Detention Centre is for internationals, not nationals. And the world is looking up to a country like this where people travel from all corners of the world (so) for them to minimise basic human rights, very basic, I think it's unfortunate."
Still, he stated after "close to two years of unjustified imprisonment" he is "excited the matter is in the safe hands of the courts" and insisted he is even more excited to get in contact with his family.
"I want to talk to my kids right now," he stated. "It's really terrible that we've not had an opportunity. Sometimes we've been able to send out letters or correspondences via very irregular means and that shouldn't be so. We were not charged for any crime, no court determined that our rights should have been restricted to the extent that we're not going to make communication, so we hope to communicate with family and we're sure they'll be happy."
During the hearing yesterday, Mr Smith said the applicants were grateful to the respondents for arranging their release. 
"There are no grey areas here," he told the judge. "People can't just be held indefinitely. The Immigration (Department) appears to have become a law unto themselves and despite ruling after ruling, habeas corpus after habeas corpus, they still don't seem to understand what the law is. And frankly, I'm not in charge, I don't know what to do about it, but all the judges repeatedly issued the writs and so Mr Cargill, I guess I'm directing this at him, to please urge his clients to be respectful of the law so we don't have to do this."
Both attorneys are scheduled to appear before Justice Turner for a mention hearing today to confirm that all of the asylum seekers have been released before the case is closed.