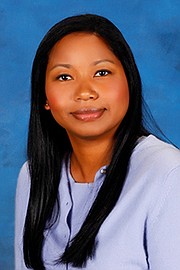 By RASHAD ROLLE
Tribune Senior Reporter
rrolle@tribunemedia.net
INFECTIOUS disease expert Dr Nikkiah Forbes said the benefits of taking the Oxford-AstraZeneca vaccine still far outweighs the risks associated with the jab. 
Her comment during a Ministry of Health press conference yesterday came after the United Kingdom announced that it will offer AstraZeneca alternatives to adults under 30 after European regulators identified a possible link to rare blood clots.
Chief Medical Officer Dr Pearl McMillan said local health officials became aware of the UK decision just yesterday and will monitor the science on the matter.
For her part, Dr Forbes said: "Today (Wednesday) the European Medicines Agency gave an update on what is the status on blood clots and the AstraZeneca vaccine and it is possible that these clots are a very rare side effect of the AstraZeneca vaccine. And when I say rare, there are 34 million doses of the AstraZeneca vaccines that have been administered up to April 4 and a very small number of blood clots (have developed). Actually, the chance of getting a blood clot is way less than 0.1 percent, it's about 0.0065 percent, and so it's an extremely rare side effect that's possible.
"Scientists are not really clear on what exactly could be causing this at this time so the overall position is that the benefits for this vaccine do still outweigh the risks of this vaccine and there is some other useful information to know. As a matter of fact, four women out of every 10,000 women that is on the birth control pill will get a blood clot because of it and COVID-19 itself can cause blood clots so we always have to weigh what is the benefit and the risks and the benefits of the vaccines still far outweigh the risks, especially in the context of an ongoing COVID-19 outbreak.
"As it relates to what the United Kingdom has decided, it's based on the observation that this very rare side effect is most likely to occur in younger persons, especially women, and so you have to balance it in terms of your country situation and in that case persons under the age of 30 would certainly be more at risk of the rare side effect of having blood clouts but they also would do far better if they got COVID-19 and so that is where that recommendation came out. All countries will have to look at their situation and decide what their national guidelines will be, but that's some of the context and still being studied."
Yesterday, Dr McMillan said a small number of people who have been vaccinated in the country have reported "non-serious and mild" side effects. 
"As of April 4, there were 69 individuals who reported more than one event," she said. "This was less than one percent of all the persons who would have been vaccinated. Of these, sex was not documented for seven or ten percent who reported the event. Most events reported were among women, this was 42 of the 69 persons, and in people between the ages of 45 and 54. All the events analysed were classified as non-serious and mild."
She said 69 people reported 119 events. Twenty one percent of the reported events were due to headache, 15 percent were fever, 13 percent were chills, 9 percent body pain, 8 percent pain at injection site, 8 percent fatigue.
Health Minister Renward Wells meanwhile noted that the groups of people eligible to receive a vaccine has now been expanded on New Providence. The list now includes teachers and staff of schools; physically challenged residents who are homebound; students and athletes studying or competing abroad; and hospitality workers (including public transportation workers, Lynden Pindling International Airport workers, Nassau Airport Development Company employees, Nassau Cruise Port workers, Straw Market workers, port and beach vendors and tourism operators).
He said vaccination centres will open at Atlantis and Baha Mar for hospitality workers on April 9.
People who can't access the internet on New Providence can go to the Church of God of Prophecy on East Street for the jab.
Dr McMillan said work is continuing to expand the vaccination process to other Family Islands, such as Exuma, but she did not say when the expansion would take place.