Tuesday, January 12, 2021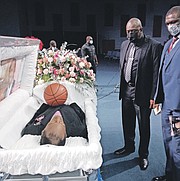 WHILE Bahamas Basketball Federation President Mario Bowleg called for the late Michael 'Scooter' Reid to be inducted into the National Hall of Fame, Apostle Dr Carlos Reid reiterated that the basketball courts at the Hope Center and the Peace on the Street Tournament will bear his brother's name.
Dr Reid first made the announcement at the memorial service on the lawn of the Ministry of Youth, Sports and Culture on Friday and again at the funeral service on Saturday at the Diplomat Center for the late 'Scooter' Reid, 57, who died on December 28, 2020.
In delivering the eulogy for his brother at the funeral service attended by staff at the Ministry of Sports, members of the basketball fraternity and parliamentarians Marvin Dames and Glenys Hanna- Martin as well as Dr Daniel Johnson, former minister of sports, Dr Reid said many people paint a different picture of 'Scooter' Reid.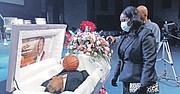 The founder and pastor of the Hope Center noted that many people judged the former basketball player and slam dunk champion and track and field high jumper and distance runner, who got his nickname 'Scooter' Reid because of the way he ran around the track, but they didn't know what he was going through.
"I believe that it is past time that we learn how to get rid of negative baggage and we learn how to forgive and we learn how to drop and leave it and let some things go," Dr Reid said. "When we do, we release God's hands to heal our hurts and restore our broken pieces. There are too many families that have been separated or dysfunctional because of this demon of unforgiveness.
"I remember holding onto some unforgiveness when it came to my brother Scooter. I had given my life to Christ and I wanted my brother to be who I wanted him to be. I held this against him until I came to the understanding that a lot that Scooter was battling, he didn't order. I missed a lot of years."
Over the past several years, Dr Reid said he got to know his brother a whole lot better and he realised that Scooter Reid had it all together better than him. He said that while a lot of people wore masks so as to disguise who they really are, 'Scooter' Reid didn't. What you saw in him was who he really was.
"Scooter wasn't a dumb fellow. He was a graduate of (Liberty) university. He was educated and he was more smarter than most people would ever know," he said. "Scooter wrote speeches for ministers that he served under. My brother was a sports legend. And I know that so many people say that he needs to be remembered."
Not waiting for others to make it happen, Dr Reid said he will keep the memory of his brother alive by naming the basketball courts at the Hope Center, the Michael 'Scooter' Reid Basketball Facility.
And he said the Peace on the Street Basketball Tournament, which was postponed last year because of the coronavirus pandemic, will be renamed the Michael 'Scooter' Reid Peace on the Street Basketball as they head into its 20th year of existence.
Bowleg, who called for a national Hall of Fame induction for his friend, said too often, persons like 'Scooter' Reid are overlooked of the contributions that they make, but he has vowed not to let his legacy fade because of what he did as a basketball player at the collegiate and national level, winning a number of individual and team titles along the way.
He noted that 'Scooter' Reid has also coached both men and women teams and having served as an officer in the Ministry of Sports, he helped to orchestrate the popular Father Marian Peters Invitational for high schools, serving as a referee and administrator as well as the operation of the Long Island Basketball Classic.
"The Bahamas Basketball Federation signifies Michael 'Scooter' Reid as a basketball icon that served the Commonwealth of the Bahamas with grace and humility," Bowleg said.
"However, that alone does not do full justice to the man. We believe that 'Scooter basketball will be alive and well and bouncing in heaven."
Kimberly Rolle, the athletic director of the University of the Bahamas, in her 'As I Knew Him,' said her first recollection of 'Scooter' Reid was when he was in the eighth or ninth grade at SC McPherson playing for the Sharks' basketball team at the Father Marcian Peters Invitational.
She noted that after one of their games, 'Scooter' Reid walked over to her coach Vincent Sullivan and told him that "this girl could play college ball."
A few years after she began playing with coach Anthony Swaby, 'Scooter' Reid once again reiterated his remark about her capabilities.
Eventually, those few words cemented her future as Rolle went on to play college basketball and on various national basketball teams. They developed a bond from there up to the time of his death when they worked together as administrators, providing his insight especially on the Mingoes men's basketball team.
His long-time close friend Michael 'Banana' Johnson, who also spoke on 'As I Knew Him,' said their relationship went back to the days when they were in grade seven and they started attending Bahamas Youth Camp every summer.
He noted that they were delighted because they got to play basketball all day, eat three meals a day and in the evening they got to show of their bible knowledge to the pretty girls.
"Back then, Mike was the only guy I knew who could run all day. He had a motor in him," Johnson said. "He also could memorise and quote scriptures."
Later, they started a ministry where they went throughout the parks in the communities, not only in New Providence, but in the Family Islands, where they provided basketball games and then shared a devotional message.
The Long Island community was probably the last to benefit from the hard work of 'Scooter' Reid.
In a video tribute, many persons from the island reflected on how 'Scooter' Reid helped to develop the Long Island Basketball Classic into one of the most vibrant events today.
Also during the video presentation, Eric Gordon Sr, a former team-mate at Liberty University, talked about their connection where 'Scooter' Reid developed a wholesome name for himself as a Dennis Rodman-style tenacious player on both ends of the basketball court.
Dames, the Member of Parliament for Mt Moriah, which included Yellow Elder where 'Scooter' Reid spent a lot of his spare time working in the community, along with Hanna, the MP for Englerston, both talked about their interaction with 'Scooter' Reid and their desire to see something permanent done to remember him.
And Reid's oldest son, D'Angelo Reid along with moderator Ricardo Turner, pastor of Englerston Gospel Chapel and Dr Dave Burrows, pastor of host Bahamas Faith Ministries, also shared their personal recollection of 'Scooter' Reid.
Eugene Poitier, the permanent secretary in the Ministry of Youth, Sports and Culture, confirmed that Michael Reid was hired in the Sports Department in July, 1989 and only recently retired in December, 2020 after he took ill, having served for 31 years. "I think the nation is grateful for his passionate, driven and commendable service," Poitier summed up. "He was a brilliant young man. I would in fact would describe him as a decent human being, who not only was blessed with athletic abilities, but displayed great academic competence.
"He was very good at researching and writing, which I came to realise and exhibited excellent organisational and leadership skills, a classic example of never judging a book by its cover. He also demonstrated that common touch especially when bringing young people from all walks of life to play basketball."
Poitier said 'Scooter' Reid's role as a sports and a private citizen and his contribution to the sport and even more so, the people of basketball, is legendary as he worked within the community and all throughout the archipelago of the Bahamas as he lobbied for community basketball and establishing basketball leagues to help mitigate about the gang culture.
Speaking on behalf of Minister of Sports Lanisha Rolle and the officers and staff at the ministry, Poitier said they will sorely miss their colleague and friend, "a man who gave of the best of his service, a man who gave us his heart."