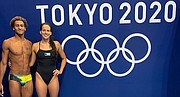 By BRENT STUBBS
Senior Sports Reporter
bstubbs@tribunemedia.net
WHILE they await the reminder of Team Bahamas' arrival in Tokyo, Japan, swimmers Joanna Evans and Izaak Bastian are eager to get in the pool and start competing at the 2020 Olympic Games on Saturday.
After she joins veteran high jumper Donald Thomas in carrying the flag in a historic opening ceremony today, Evans will open up in her signature event in the women's 400 metre freestyle and Bastian will go in his specialty in the men's 100m breaststroke.
In making his debut, 20-year-old Bastian said he's making the necessary adjustments.
"The heat isn't too much of an issue once you get inside," he stated.
"Walking to and from the buses is a bit warm. I train outdoors in Florida, so it's not a terribly hard adjustment.
"So it's not too inconvenient, but you definitely feel it walking to the dining hall and to the buses to swim. But being in the bubble, it's not a terrible thing.
"It's all about safety, so it's alright."
Evans, making her second appearance at the games, added that that, "The bubble isn't much different to an average village/pool set up.
"It's a very similar feeling, except for the fact that we are getting tested, wearing masts, etc."
The games, which were postponed from last year because of the spread of the coronavirus pandemic, will be staged without any fans in the stands, but neither Evans or Bastian are concerned about it because they've learned to do it in their meets for the past few months during their competition for Florida State University and the University of Texas at Austin respectively
The duo will set the stage for Team Bahamas, which will also be competing in track and field at the games with Thomas and Jamal Wilson entered in the men's high jump; Steven Gardiner and Alonzo Russell in the 400m and Samson Colebrook in the 100m.
The women's team will feature Tynia Gaither in the 100m and she could be one of three competitors entered in the 200m.
The list includes Shaunae Miller-Uibo, Anthonique Strachan and Brianne Bethel, all of whom have qualified for the event – Devynne Charlton and Pedrya Seymour will compete in the 100m hurdles.
Miller-Uibo, Strachan and Bethel are also expected to be a part of the women's 4 x 400m relay pool that also includes Doneish Anderson, Megan Moss and Lacarthea Cooper.
The games will run through August 8.