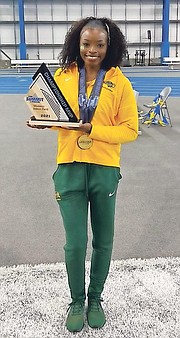 By BRENT STUBBS
Senior Sports Reporter
bstubbs@tribunemedia.net
DAEJHA Moss couldn't ask for a better ending to her junior year at North Dakota State University after she was named the Field Championship MVP at the Summit League Indoor Championships over the weekend.
"Being named MVP was such a surprise to me even though I know I put in a lot of work to get to the level that I was at," Moss told The Tribune. "I am so grateful and happy that I received the award. I'm also so thankful to God for carrying me through the weekend injury-free."
Moss, battling back from an injury during the indoor season in 2018 that prevented her from competing outdoors, said she was a little disappointed that she didn't perform better than she did in winning the women's high jump to go along with her fourth place in the triple jump.
"My performance was alright. I did a lot of work on it and I really wanted to make the (NCAA) Nationals," she said of the championships that will complete the collegiate indoor season over the weekend of March 12-14.
"I just started the triple jump this year and I managed to set a personal record on each jump, so I was happy with that. But in the high jump, I was kind of disappointed. I really wanted to clear 1.82, but it wasn't my day I guess."
Looking back on her performance, Moss admitted that she knew where she went wrong as she only managed to soar 5-feet, 8 1/4-inches for her triumph in her speciality in the high jump.
Although she got fourth in the triple jump, she still produced a lifetime best of 38-6 (11.73m). Those two feats enabled her to earn 21 points for the Bison and the top scorer in the field events in the championships. When asked which of the performances she enjoyed the most, Moss noted: "I would probably say the triple jump, simply because I was improving on each mark.
"That's the thing about starting a new event. It's so easy to get a PR."
The Queen's College graduate, who only had one meeting last year where she cleared 5-6 (1.68m) indoors before the outdoor season was washed away because of COVID-19, joined Oral Roberts senior Sasha Wells in securing one of the post-conference championship awards.
Wells, who retained her title in the 60m hurdles and had top-three finishes in the 60m, 200m, and on the 4 x 400m relay, was named the Most Outstanding Championship Performer.
"Sasha always shows out at the conference, so I was not surprised at all in her being named the most outstanding athlete," said Moss, in congratulating her former CARIFTA team-mate. "She's done so well all season and I am extremely proud of my old Club Monica team-mate."
Moss, the daughter of Delvin and Raquel Moss and sibling to Petra and Prince Ferguson, said she's content with her indoor season and is now looking forward to the outdoors.
"Now that I missed out of a seat at nationals, I'm going to get prepared for outdoors," said the exercise science major. "I'm really excited to see what I can do in this fourth collegiate year."
The schedule has not yet been released for the outdoor season, which is being carefully monitored because of COVID-19.