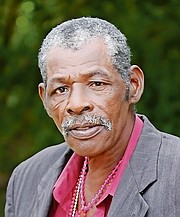 By BRENT STUBBS
Senior Sports Reporter
bstubbs@tribunemedia.net
ISHMAEL "Cold Blooded" Clarke, known for his tenacity and terror on the boards as a rebounder for the Smirnoff Nangoes men's basketball team out of Fox Hill, passed away on Tuesday. He was 63.
Two of his former team-mates Anthony 'Bowe' Davis and James 'Jimmy, Joe Black' Clarke had fond memories of the southpaw who was a wrecking crew for their opponents in the New Providence Basketball Association.
"Ish was a fierce competitor. At six-feet tall, he could jump with the best of them," Bowe said. "He was very quiet, but he wasn't afraid to go after the bigger players like Sterling Quant (of the Kentucky Colonels) and (deceased) Peter Gilcud (of the Beck's Cougars).
"When everybody jumped you only see Ish left hand go up and get the rebound. That was Ishmael Clarke," said Bowe of Clarke, who was named the Rookie of the Year when he first played in the NPBA in the late 1970s. "He [played the game the right way."
The Nangoes, coached then by the late Eddie Rahming, featured players such as Bowe, Jimmy Clarke, Grayland Humes and Theophilis Humes. After he left the Nangoes, the deceased Clarke played briefly with the Fox Hill Bombers.
Bowe also remembered when Clarke played junior baseball with a team that was coached by Anthony 'Muggy' Saunders, which included players such as Darrin Davis, Erskin Davis, Ryan Davis and Frederick Saunders.
"Ish was our left hand pitcher," Bowe recalled. "He was an all-around athlete, but basketball was his sport."
The deceased Clarke also played on a number of teams in the Fox Hill Park League.
Clarke, unrelated directly to the deceased Clarke, said as team-mates, he enjoyed watching "Ish," who was a "hard nose gutsy player," who was "very well respected" as one of the great ones to come out of Fox Hill.
"Back then, we never really had any hard words for each other. We just played the game," Clarke said. "We played basketball and just enjoyed the game. He was a good person. His personality never changed."
Although he spent most of his days after playing with the Nangoes away from Fox Hill, Clarke said whenever he returned and he encountered the deceased Clarke, he always referred to him as "Joe Black" as they complimented each other.
"We never had a bad word for each other," said Clarke, who did coaching stints with the AF Adderley Fighting Tigers and then the Hawksbill High Hawks in Grand Bahama before he returned to Nassau at the CR Walker Knights and then at Doris Johnson with the Mystics Marlins.
"He would always encourage me to encourage the kids in Fox Hill. There were some good kids who came out of Fox Hill at Doris Johnson, but there were some whom I had to put the stick on. But most of the time they behaved."
Clarke, who ended up as the principal at Doris Johnson, said he got the support of the residents of Fox Hill and the deceased Clarke, who was well respected by all in the community.
With a jumper that he developed from the top of the key, Clarke said the deceased Clarke helped the Nangoes to pull off a Bahamas Basketball Federation's Independence Basketball Tournament over the Caribbean Suns from Grand Bahama.
At the time, Vincent 'Six' Knowles had returned home from school and he played in the frontcourt with brothers Bradley 'Wolf' McDonald and Kevin 'Mo' McDonald.
"We had a team that year," Clarke said. "That was when basketball was at a high level. We had a serious team to contend with that year. We put a whipping on the Caribbean Suns from Grand Bahama."
Clarke said although the deceased Clarke and the late Rueben 'Cheetah' Knowles went to Sandilands Primary, when he went to RM Bailey, he tried to get both players along with some of the others to join but they didn't go.
"I think if they had come, we would have reigned in high school basketball for a number of years," Clarke reflected. "Oh, we would have been awesome. But we didn't do it. But we played together as a formidable team with the Nangoes."
Off the court, Bowe said the deceased Clarke was a well-groomed fellow.
Clarke is survived by his son Ray Clarke, daughter Dr Tia Minnis, grandchldren Mason Minnis Dukes, sisters Betty Davis, Alice Rolle, Christine Clarke, Maxine Bethel, Joanna Clarke and Ida Mae Clarke, brothers Christopher Clarke, Melford Clarke, Peter Clarke, Samuel Clarke, James Clarke, Andrew Clarke, Michael Clarke and Fredrick Clarke and numerous nieces and nephews.
As a profession, the deceased Clarke worked mainly in landscaping, but he spent the latter part of his life around the Fox Hill parade.