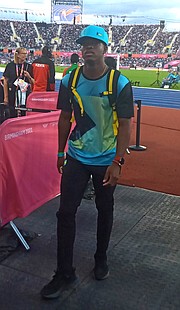 By BRENT STUBBS
Senior Sports Reporter
bstubbs@tribunemedia.net
BIRMINGHAM, England — Donald Thomas came that close to getting back on the podium in the finals of the men's high jump yesterday at the 2022 Commonwealth Games.
On day three of the track and field competition at the Alexander Stadium, Thomas got left off the podium with a fourth place finish with a height of 7-feet, 3 ¼-inches or 2.22 metres, while Shaun Miller Jr made his global international debut with 6-10 ¾ (2.10m) for 10th place overall.
Thomas, the 38-year-old Commonwealth Games champion in 2010 in New Delhi, India, was looking forward to rebounding from his disappointing 11th place at the World Championships in Eugene, Oregon two weeks ago.
But it just wasn't his day to get back on the podium. "It is what it is," said Thomas, who is nursing an injury he sustained from the beginning of the season. "I came here to perform and I gave it my best, but I finished short so I'm disappointed.
"I had a few bars that I feel could have stayed up there, but that goes with the game. That's high jump.
"I just have to get a clean sheet and some clean clearances and jump over the bar. Unfortunately, the bar was falling and I fell short."
Thomas, the 2007 world champion at the World Championships in Osaka, Japan, had to watch as New Zealand's Hamish Kerr took the gold with just 7-5 (2.25m), while the sliver went to Australia's Brandon Starc with the same height on more knockdowns.
The bronze medallist was India's Tejaswin Shankar with 7-3 1/4 (2,22m) on fewer knockdowns than Thomas.
With the crowd of 30,000 inside the stadium cheering, Thomas said he felt good being in the atmosphere with a good crop of jumpers, one of them being Miller Jr, whom he credited for a great start to his senior campaign.
"It's a good experience for him. He's a young guy with a lot of potential," Thomas said.
"He has a lot of upside, so he just has to stay motivated and continue to train. It felt good to have another high jumper out there with me, so that was good."
For 21-year-old Miller Jr, he was delighted to get his first taste of competing in the big leagues.
"The crowd was nice and everything. I felt like I had a lot left in me, so obviously I'm disappointed with the 2.10m," he said.
"I was just tired with the jumps. I just couldn't get through them like I should.
"On my last try, they had the clock running and I had to go quickly so I would not lose my try.
"Usually this stops the competition before the race, but the guy moved the cone and I was walking back when one of the guys touched me that I was on the clock.
"I had about 20 seconds left and I had to go jump quickly."
It could be described as a "rookie" mistake, but Miller Jr said he had an awesome time competing with Thomas against some of the top jumpers in the world.
He said he just missed not having his parents May and Shaun Miller Sr, his big sister Shaunae Miller-Uibo and his coach Ronald Cartwright here to watch him perform.
"These are some of the guys who I look up to and now to be out here with them is just mind blowing," he said.
"I just have to continue to train, trust in God and I will be back here bigger and better."
Miller Jr is not sure when he will compete again, but Thomas is expected to get some attention to his injury and hopefully be ready to compete at the NACAC Championships in Grand Bahama from August 18-21. "I got to do something for the home crowd," said the native of Grand Bahama.