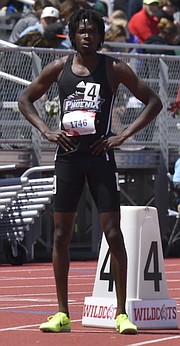 By BRENT STUBBS
Senior Sports Reporter
bstubbs@tribunemedia.net
CHRIS 'Fireman' Brown said he was surprised that it took 25 years for his Bahamian men's national 800 metre record to be broken.
Meet Joel Forbes, considered a "late bloomer," who only started competing in the sport seriously at the age of 19. He just shattered Brown's mark of one minute and 49.54 seconds that he ran on August 17, 1998 at the Central American and Caribbean Games in Maracaibo, Venezuela.
Forbes' record-breaking feat came at the NAIA Outdoor Track and Field Championships in Marion, Indiana. The junior at Cumberland in Tennessee ran 1:49.32 to ink his name in the Bahamas Association of Athletic Associations' (BAAA) record books.
"Going into the championships, I had an idea that I would break the record," said Forbes, who, like Brown, also ran the 400m. "At our last chance meet in Cleveland, Tennessee, I was close to the time, so that showed me that I had a chance to do it.
"Even when I ran at Conference, my coach told me that I have the ability to break faster than the national record. When I did it, I was so happy. It was an unbelievable experience for me."
Brown, who admitted that he's never met Forbes, could only smile when he heard about the performance after Forbes did it with splits of 53 in the first 400m and 56 in the last lap of the race.
"I was like wow. Finally, somebody went under 1:49.5," Brown said. "That was impressive. I was excited to know that somebody out there has that fire and spark to go for it. It was a record that was there forever, but records are meant to be broken.
"So I'm extremely proud of him. I can truly say that as a Bahamian who ran the event, it was good to see someone else who was able to join me in running that fast. I hope that one day we can clash, or at least I can be around to see him perform."
As a youngster growing up at St John's College, Forbes said he got to run for the Giants' track team, but it wasn't until he was enrolled at the University of the Bahamas that he found himself venturing over to the Thomas A. Robinson Stadium to train and compete.
He joined Quick Step Athletics Track Club, headed by Clinton Smikle and the rest was history.
"I was trying to get a track scholarship and so I went out there to train and to see what I can get worked out," Forbes said. "I had a school lined up in Alabama, but the same time I was trying to get in, they fired the head coach.
"After that fell through, things worked out at Cumberland and I went there and I worked extremely hard. I knew that I was on to something once I started competing there."
On his late entry into competitive track and field, Forbes said it wasn't something that his parents, Delores and Wellington Forbes, pushed for him or his brother, Joshua Forbes. In fact, he said after he secured the scholarship to Cumberland, he's gotten all of the support that he needs.
"In our family, we haven't had anyone running track in college," Forbes said. "So they are not only surprised, but they are happy to see how I am excelling in it. I'm just happy that I can do it."
As a young boy growing up, Forbes said he heard about Brown and so when he got a chance to break the record, he was extremely thrilled because he was an idol that he looked up to, although he never got a chance to meet him in person.
"He called me after I broke the record, and we had a good talk. He encouraged me to continue to hold my head up high and continue to excel," Forbes said. "Looking at it now, it was a big accomplishment and to hear him compliment me was something that I will really cherish. He said he was proud of my performance."
Smikle said when Forbes joined his club, he was running 2:21 in January 2018. A year later, Smikle said Forbes became the national champion, running 2:02. Following that, he dipped under two-minutes with a time of 1:57. So Smikle said he saw the progression.
"He's a really hard worker. Once he puts his mind to doing something, he goes out there after it," Smikle said. "I feel that there's still more left in the tank for him. I expect that he can run under 1:55."
Forbes thanked Smikle for taking the opportunity to work with him.
While home for the summer, Smikle said he will be working with Forbes to get him ready for the BAAA's National, scheduled for July 5-7 at the Thomas A. Robinson National Stadium.
Forbes noted that if the opportunity presented itself, he would definitely like to represent the Bahamas on any of the international meets this summer. He said he is also prepared to run the 400m and will be willing to run on the 4 x 400m relay team.
"I've had a long season. I've been running since August with Cross Country and I've been racing just about every weekend since up to nationals," Forbes said. 
While he's enjoyed a wealth of success in the 400m, having held the Bahamian national record and won numerous individual medals as well as several as a member of the 4 x 400m relay team, Brown said the 800m has been an event that he's not settled himself in.
"I would like to challenge him," said Brown, who has not quite finished competing although he's now serving full-time as the head coach at Clayton State University in Atlanta, Georgia.
"It won't be this year because July is too quick, but if he gives me until the trials next year, I would be prepared to compete against him and to see how far I can push him."
At this stage in his progress, Forbes said he's willing to face a challenge from any Bahamian who is willing to line up against him, even his idol, whose national record he just recently broke.