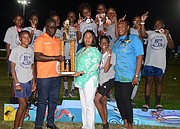 THE Jack Hayward Wildcats and the Tabernacle Baptist Falcons emerged as the junior and senior high winners of the Grand Bahama Secondary Schools Athletic Association's 2023 Fidelity Bank Track and Field Championships.
At the end of the three-day meet on Monday at the Grand Bahama Sports Complex, Jack Hayward came out as the winners of their first junior title, while Tabernacle Baptist continued their dominance with their 10th straight crown.
When combined all together, Tabernacle carted off a total of 77 medals, including 32 gold, 28 silver and 17 bronze.
Sunland Baptist Academy came in second with 17 gold, 12 silver and 12 bronze for their total of 41.
Saint George's High rounded out the top three with 14 gold, 13 silver and 14 bronze for their total of 46.
• The high point winners in the various age group categories are as follows:
Under-13 girls – Trinity Rolle of Sunland Baptist with 33 points. Inaya Nesbitt of St Mary Patricia was second with 28 and Sanya Cooper of Tabernacle Baptist got third with 25.
Under-13 boys – Trequan Gordon of Jack Hayward won with 29 points, edging out Christen Desir of St Mary's Patricia, who had 28. Ethan Collie of Jack Hayward got third with 27.
Under-15 girls – Skyler Curry of Eight Mile Rock won with 36. Keyezra Thomas of Bishop Michael Eldon got second with 30 and Kaylee Thompson was third with 21.50.
Under-15 boys – Keeshawn Pinder won with 30 over team-mate Levi Pinder, who had 26. Both Elijah McDonald of Jack Hayward and Advardo Major of Tabernacle Baptist finished tied for third with 25.
Under-17 girls – Jasmine McKinney of Tabernacle won with 38 . Phoebe Thompson of Bishop Michael Eldon was second with 36 and Shania Adderley of Tabernacle Baptist was third with 28.
Under-17 boys – Ternandre Hall of St George's was the winner with 25. Joshua Williams of Tabernacle Baptist was second with 22. Tyrone Conliffe of Jack Hayward was third with 21.
Under-20 girls – Alfrenique Knowles of St Paul's College was the winner with 40, well ahead of second and third place finishers Janaiyah Rolle of Bishop Michael Eldon and Akaya Lightbourne of Sunland Lutheran, both with 26.
Under-20 boys – Robert Stuart of St George's won the title with 34. Marco Carey of Sunland got second with 22 and there was a two-way tie for third with Joshua McPhee and Shamar Davies, both of St George's with 21.