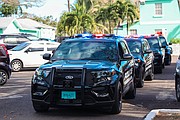 By JADE RUSSELL
Tribune Staff Reporter
jrussell@tribunemedia.net
A fleet of 10 new SUVs was given to the Royal Bahamas Police Force on Friday, outfitted with the latest technology to aid in the fight against crime.
Chief Superintendent Chrislyn Skippings spoke to reporters at the Police Headquarters, saying the vehicles will be utilised in the Operation Ceasefire Department.
She explained the new fleet of police SUVs will allow officers to have a more "aggressive" style of policing.
"The Operation Ceasefire unit alone has actually recovered 30 plus firearms from the streets of New Providence yet to date," CSP Skipping said. "And with these vehicles we're going to see more of an aggressive style of policing, we're going to be intentional in our approach to criminals.
"And so, to criminals, I want you to know that we are coming to get you because we are going to ensure that this Bahamas will remain safe for everyone who lives in this country,"
The 10 SUVs are a part of the 20 vehicles donated by the United States in February.
CSP Skippings said the additional donated vehicles are expected to be released at a later date.
The SUVs have been equipped with the latest technological communications to assist officers in their saturation patrols and crime-tackling efforts.
Each vehicle is estimated to be worth $150,000, said CSP Skippings.
In terms of the Ceasefire operations, officers have seen an uptick in high-power rifles on the streets of New Providence.
"We always see an assortment of firearms being taken off the streets by Ceasefire. But we've also seen a significant amount of the high-powered rifles being taken off the streets of New Providence by Ceasefire," CSP Skippings explained.
CSP Skippings added: "And I also want to say even though we're talking about the vehicles going to Ceasefire. We have all officers throughout the length and breadth of this country who are on a constant basis removing weapons from the streets."
One reporter asked if police are concerned about the recent series of shooting incidents in the country.
CSP Skippings said that officers are "always concerned" about shooting incidents. However, she appealed to parents to contact the police if their children are in possession of illegal weapons.
"I'm asking you to ensure that you communicate and collaborate with your police department so that we can remove these weapons from the streets in New Providence.
"Failure to actually turn these weapons into us can actually result in these weapons being turned on you or a family member as we've seen previously. And so we're very concerned, crime-fighting is just not for the police alone, crime fighting is a collaborative effort," she said.
In February, the US handed over 20 new Ford Police Interceptor Hybrid SUVs at a value of nearly $1.4m at a ceremony at RBPF headquarters.
"This is what neighbours do for each other," Prime Minister Philip 'Brave' Davis, referring to the US government at that handing over ceremony for the fleet of vehicles.
"These definitely will have some impact, because they're in dire need. This is what neighbours do for each other and I am grateful for them for this gift of the 20 cars," Mr Davis said.