Wednesday, March 22, 2023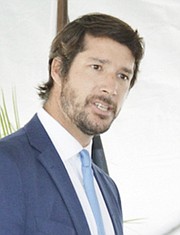 By NEIL HARTNELL
Tribune Business Editor
nhartnell@tribunemedia.net
A Hayward family member has voiced optimism that Grand Bahama International Airport's $200m transformation will serve as a "catalyst" for the sale of a Grand Lucayan resort that has become "a bit of an eyesore".
Rupert Hayward, grandson of former Grand Bahama Port Authority (GBPA) co-chair, Sir Jack Hayward, told Tribune Business of the announcement: "This is welcome news for everyone on the island, particularly for developments that are planned or already in the offing, especially the Weller Development, Pegasus and Six Senses hotel.
"This is critical infrastructure, which is really important. I hope it will be the catalyst to get the big hotel sold. That's the really important piece here. The Grand Lucayan is a bit of an eyesore. The airport will hopefully be the catalyst for the sale of the Grand Lucayan, and that is a really important part of Grand Bahama's sustainability."
Michael Scott KC, the Grand Lucayan's former chairman, reiterated that it was almost impossible to find the correct buyer for the resort without an assurance that an airport capable of servicing the required airlift and guest flow was in place.
"You could never do anything with that hotel," he told this newspaper. "I learned that the hard way. That should be as obvious as anything. Unless and until you give people expected to put hundreds of millions of dollars into that property some assurance they will generate the revenue streams" a sale will not happen. Mr Scott added that a revived airport was the "sine qua non for any resurgence if any investment and growth in Grand Bahama and Freeport".
Not everyone, though, agrees that a $200m investment in Grand Bahama's airport is necessary. Kirk Antoni, the Cafferata & Co attorney, told last week's Grand Bahama Business Outlook that a $25m injection may suffice given the urgency of the need to improve airlift and the airport experience.
"Do we need a $200m airport to get the flow of people coming to Freeport?" he asked, lamenting the numerous past promises of politicians who fail to deliver. "How is Mr Weller going to bring in investors if they come off a plans and have to pick up their luggage off a forklift or pallet?
"The domestic terminal is still a disgrace. Just speak with Sunwing passengers who are the only ones using the terminal. We need action now, people, not in two or three years' time when an election is called."
Chester Cooper, deputy prime minister, and also minister of tourism, investments and aviation, in unveiling the airport deal said its proponents ultimately aim to transform the facility into an international "air cargo hub" for the Caribbean and Latin America. He also disclosed that the mixed Bahamian and UK joint venture consortium that won the bid plans to "consistently generate 1,200 construction jobs" over the project's five-year build-out.
Signalling that the group's ambitions extend beyond re-establishing a tourism gateway, and the return of US pre-clearance, he said their plans to establish an air freight hub for the region were designed to create an extra 500 jobs over a 10-year period.
Mr Cooper confirmed previous exclusive Tribune Business revelations that Bahamas Hot Mix (BHM); its chairman, Anthony Myers; and CFAL president, Anthony Ferguson, were all members of the Bahamian investor group that will spearhead what was billed as a complete overhaul of Grand Bahama International Airport. They are joined in Aerodrome Ltd by two fellow Bahamians - Anthony Farrington, an engineer; and Greg Stuart, a businessman.
BHM's involvement in the project is through its UK-based international arm, BHM Construction International. The group has teamed with UK-based Manchester Airport Group as its operating partner, with financing for the project being provided by UK Export Finance, a British government body that provides credit guarantees and helps to arrange funding for that nation's exporters.
Mr Cooper added that the Government has signed the agreement with Aerodrome Ltd, and its partners, in February 2023 for the airport's redevelopment via a public-private partnership (PPP) that will see the consortium design, build, finance, upgrade and maintain a new main aviation gateway for Grand Bahama.
The consortium's role, Mr Cooper said, will be to "generate [aviation and passenger] traffic, and to grow revenues and further enhance Grand Bahama International Airport". He added: "Their mission is to transform Grand Bahama International Airport into a carbon neutral, climate resilient, commercially viable world-class airport.
"Subject to final design, this is expected to be an investment of $200m in that range, and this investment will begin its preliminary work this quarter, this month; March. The airport will consist of two phases which are expected to generate 1,200 construction jobs consistently over the next five years.
"Ninety percent of these jobs will be reserved for Bahamians, and work permits will only be granted where Bahamians cannot be found in accordance with our Immigration laws and policies. During the construction of phase one of the new Grand Bahama International Airport, which we expect to be completed no later than the first quarter of 2025, 300 construction jobs will be created along with 50 engineering, management and accounting jobs."