Wednesday, March 22, 2023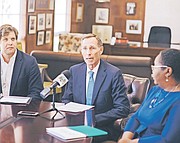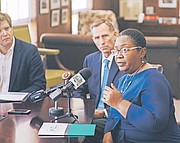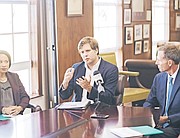 THREE graduate students eager to advance human flourishing will be eligible for up to $40,000 annually for two years through a re-established Sir John Templeton Memorial Scholarship offered by the Lyford Cay Foundations.
Lyford Cay Foundations and Templeton World Charity Foundation officials announced the relaunched of the scholarship yesterday in the office of the late Sir John Templeton, the noted investor and philanthropist who supported academic pursuits and projects promoting human and spiritual flourishing.
Basil Goulandris, chairman of Lyford Cay Foundations, said the relaunched scholarship is now one of the organisation's largest available awards and will be accessible to eligible students in time for the 2024 scholarship cycle.
He said the criteria for the scholarship aligns with the virtues Sir John promoted.
Applicants will be asked to reflect on their laws of life and themes connected to human and economic development.
Eligible applicants must be accepted into an accredited graduate programme at a competitive university. Screeners will prefer applicants enrolled in PhD studies in the sciences and the humanities.
"The relaunch of the Sir John Templeton Scholarship represents a doubling of Templeton's commitment to helping people achieve their dreams through education," Mr Goulandris said.
"Deserving students previously received up to $20,000 each per year through this scholarship, helping them earn graduate degrees and become leading professionals in their fields."
"With the re-established Sir John Templeton scholarship, as many as three students will now be eligible for up to $40,000 each for up to two years. The cost of a college education is increasing around the world, so this substantial investment, one of the largest that the Lyford Cay Foundations administers, will help scholars comfortably focus on their studies without financial stress or hardship."
Dr Andrew Serazin, president of the Templeton World Charity Foundation, said: "Since 2009, the Sir John Templeton Memorial scholarship has supported 34 scholars with over $1m in scholarships to pursue their studies at higher education institutions in Canada, the United Kingdom and the United States. Each year, over $100,000 will be made available to three deserving doctoral candidates in the sciences and humanities for their studies. These scholarships represent, for us, not only an opportunity to invest in the best and brightest minds in The Bahamas, but also to support the foundation's long-term strategic vision to advance the science and practice of human flourishing through rigorous, scientific research. The Lyford Cay Foundation has likewise demonstrated a commitment to excellence with its scholarship programme and we look forward to the expanded focus of the awards."
Dr Nicola Virgill-Rolle, executive director of Lyford Cay Foundations, said: "We are seeking to attract graduate scholars who are exploring themes around human development, human potential and human flourishing as a means of achieving meaningful development, human progress and improving the quality of life for individuals and societies through their research, knowledge creation and scholarly practice."