Wednesday, March 22, 2023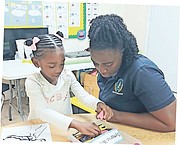 By DENISE MAYCOCK
Tribune Freeport Reporter
dmaycock@tribunemedia.net
THE Sunset Pilot Club of Grand Bahama will be distributing 50 bicycle helmets to pre-schoolers on Grand Bahama through an initiative called "Brain Power".
The organisation hopes to help raise awareness among children about the importance of brain safety.
Franklyn McCoy, president of the Sunset Pilot Club of Grand Bahama, said the month of March is designated as Brain Injury Awareness Month. He said brain safety is a major focus of Pilot International.
As a result, he said they would be distributing 28 helmets to students at the Hugh Campbell Primary Pre-school Department.
Mr McCoy, who also celebrated his birthday on February 21, hosted a President's Respite Day at Hugh Campbell Primary.
The students were treated to pizza, sweet treats, popcorn, juice, water, popsicles, party bag, water, a bouncing castle, and spent time with various cartoon characters.
They also participated in the BrainMinders programme, a signature of Pilot International to teach safety to children to help prevent brain injuries.
Mr McCoy and his members talked about various brain injury prevention topics applicable to pre-schoolers. They also participated in fun learning activities, such as a helmet colouring exercise, and presented students with BrainMinders certificates.
He said they are also in the process of building some tricycles to present the students as part of their helmet distribution initiative.
The SPCOGB club, along with their Compass Club (for college students), went to the GB Children's Home to spread the message about brain injury prevention and safety.
Brain Safety and Health is a major focus of Pilot International, which is dedicated to preventing injuries in children. The mission is to educate children about safety, promote awareness about injury prevention and provide support for those who have suffered from traumatic brain injury.
Toni Hudson-Bannister, project chair, said it is reported about 40 percent of all bicycle-related deaths are due to head injuries.
"Three-quarters of all bicycle-related head injuries occur among children ages 14 years and under; and many children are simply unable to protect their heads while bike riding because they don't have access to quality, affordable safety helmets. This international signature project allows Pilots, 'The Helmet People', to place safety helmets on the head of many youth as possible," she said.