Wednesday, March 22, 2023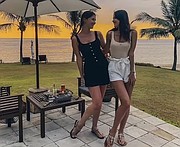 By JADE RUSSELL
Tribune Staff Reporter
jrussell@tribunemedia.net
KEITH Bell says immigration officials correctly denied two Moldovan models entry to The Bahamas in a case that has sparked international headlines.
Ina and Darina Pinzaru claim immigration officials mistook them "for hookers" and recently deported them without explanation.
The women told the Daily Mail and the New York Post they were "put through hell" at the Lynden Pindling International Airport.
Hal "Nuby" Sears, a wealthy developer, said the matter disrupted his plan to propose to Darina on a yacht anchored in The Bahamas.
He requested an apology from the Bahamian government and said he filed a complaint with The Bahamas Embassy in London.
However, Mr Bell, the Minister of Immigration, said no official complaints reached him.
"I saw the reports," he told reporters before a cabinet meeting yesterday. "I have spoken with the Director of Immigration and I am satisfied, for reasons which I am not able to disclose, that the proper action was taken not to land those persons in this country."
He later told The Tribune that thousands of people are denied entry to the Bahamas in similar circumstances each year.
"We have to ensure they are coming in for the reasons they claim," he said.
"Immigration can, for any number of reasons, refuse a person entry. If a person doesn't have enough money or if we see something that arouses suspicion, we don't have to land that person.
"This incident wasn't unusual. It happens thousands of times each year when people are put back on a flight to return to where they come from.
"When you look at how emotive we are as people, we don't say the number of persons immigration don't land, but some of these are people with very serious convictions or who are wanted in other jurisdictions or they are persons known to be involved in fraud.
"It doesn't matter who you are, your network, your net worth, or the colour of your skin. As long as we are satisfied that, for whatever reason, you are not to be landed, you will not be landed.
"What this case demonstrates is that the Bahamas immigration department is doing its job."