By NEIL HARTNELL
Tribune Business Editor
nhartnell@tribunemedia.net
A Bahamian entrepreneur yesterday made a "humble apology" after the Prime Minister reacted furiously to assertions he had "betrayed" him by failing to honour earlier pledges to approve his $3m Paradise Island project.
Toby Smith, the Paradise Island Lighthouse and Beach Club principal, told Philip Davis KC his assertions were born out of "frustration" from working on the project for 11 years without being granted all the necessary approvals to proceed. His climb down came after the Prime Minister revealed he was "deeply disturbed" by the remarks, and hit back by saying he himself felt "betrayed" by Mr Smith.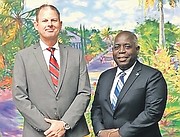 In a letter that was shared with the media, he both retracted the "betrayal" suggestion and requested that the two work together to "resolve" the situation through good faith negotiations. Responding to a Nassau Guardian headline, he told Mr Davis: "I feel it appropriate to write to you directly to ensure that you are aware that I take ownership of my words. I offer my humble apology.
"As I am sure you can empathise, I do indeed feel frustrated by this 11-year journey and, as such, my words reflected this. In hindsight, however, I understand the choice of my words should have been better selected. I wish to go on record to say that while I am frustrated by the process I would like to resolve this with you, and I remain humble and faithful that we can achieve this."
Mr Smith, speaking subsequently to Tribune Business, said his choice of words reflected "how I felt" at that moment. "However, it's not productive to our negotiations, and I'm withdrawing it," he said. The Bahamian entrepreneur reiterated that he was frustrated "by the process in general", and added: "This is 11 years in. It's a normal human feeling."
Mr Smith's retraction came after the Prime Minister sought to turn the tables on him by telling the House of Assembly he was "disappointed and disturbed" by the entrepreneur's remarks, and felt "betrayed" by him. His response was sparked after Michael Pintard, the Opposition's leader, accused Mr Davis of "flip flopping" by giving Royal Caribbean's competing Paradise Island beach club the go-ahead when, while in Opposition, he had pledged to "terminate" the deal.
The Prime Minister, asserting that he was always "on the Bahamian's side" whenever their interests clashed with those of foreign investors, suggested the situation surrounding Mr Smith's Paradise Island dispute with the Government and Royal Caribbean had changed because the Supreme Court ruled the entrepreneur did not possess a valid, binding Crown Land lease.
Disclosing that he met with Mr Smith recently, Mr Davis said he reiterated his administration's "support" for the Paradise Island lighthouse restoration but requested that he reapply for the necessary approvals given that there was no lease in place for the collective five Crown Land acres the project requires.
Stung into action by Mr Pintard's goading, the Prime Minister said of Mr Smith: "The Bahamian claimed to have the same interest [as Royal Caribbean]. If it comes to a foreigner and a Bahamian, I'm on the Bahamian's side. Everyone who knows me knows that. The claim of the Bahamian was that he had gotten permission to lease this property, and then the same [Minnis] administration turned around and leased the same property to Royal Caribbean.
"That's the position he represented to me. When we came into office we met on the premise he had a signed lease. Then he said he had gone to court to determine it's a signed lease. Why go to court to determine if you have a signed lease?.... He said he signed it, but the Government didn't sign it. I realised something may be wrong here. I said: 'Do you have a sufficient memorandum in writing?' He said: 'Yes'.
"I allowed his case to go through. In the meantime, Royal Caribbean was continuing to meet with the technical people trying to get their deal... Consideration was given. They were going to exclude the land that overlapped, the land the Bahamian had [wanted]." As a result, he said the cruise giant was pursuing a "different agreement" to the one it had previously struck with the Minnis administration.
By reducing its Crown Land footprint on Paradise Island from seven to four acres, Royal Caribbean is no longer competing with Mr Smith for the same two-acre parcel for their respective projects. Mr Smith told Tribune Business yesterday this had opened "a massive door" for his project to potentially proceed if he could resolve the lease issue and all other outstanding approvals required from the Government.
"The circumstances have changed," Mr Davis argued yesterday, "especially after the judge said: 'Mr Smith, you have no title, no agreement to lease'." The Prime Minister said he and Mr Smith met following the mid-February verdict from Sir Ian Winder, the chief justice, and added: I said: 'Yes, we'll support you, but you have no lease in place. Please resubmit your application and we'll reconsider it'.
"He met with us with his lawyer. I don't know if he made the application. I invited him to [resubmit] for our consideration." The Prime Minister's position was also backed yesterday by Ryan Pinder KC, the attorney general.
"Mr Toby Smith lost that case against the Government. We then brought him in to speak to him about his proposal, and we offered him: Make a de novo, a new proposal on your development and it will be considered as all other proposals are considered," he said.
"So there is nothing to approve because Mr Toby Smith has not applied under this government for the right to do his development and manage that lighthouse project. So if he feels betrayed by us as a government asking him to apply anew then I'm sorry, but that's not a betrayal. That is a normal course of business when dealing with the Government."
Tribune Business understands that Mr Smith met with the Prime Minister after the Chief Justice ruled he did not have a valid, binding Crown Land lease. Also present was Mr Pinder, together with Chester Cooper, deputy prime minister and minister of tourism, investments and aviation. Soon after their meeting, the Government announced Royal Caribbean's Royal Beach Club can proceed subject to environmental approvals.
The timeline suggests that the Supreme Court's verdict on Mr Smith's lease was a critical development in allowing Royal Caribbean to proceed. This newspaper understands that Mr Smith is reluctant to submit a fresh application for approval, and start anew, because it could potentially cut across and bar any appeal of Sir Ian's verdict to the Court of Appeal.
The House of Assembly exchanges continued, meanwhile, with Wayne Munroe, minister of national security, accusing the former Minnis administration of leasing the same Crown Land to Mr Smith and Royal Caribbean. And, when it realised its mistake, it shoved Mr Smith aside to make way for the cruise giant.
Pointing out that Mr Pintard was in the Cabinet when that occurred, Mr Munroe said: "They refused to sign the lease, and Marco City [Mr Pintard] and his crew gave Royal Caribbean the same land. He was in the Cabinet, he's talking about collective responsibility. He should know." The minister, prior to the election when in private practice, had represented Mr Smith as the lead attorney in the dispute with the Government.
Mr Pintard responded that the Government was asking Mr Smith "to submit all over again", to which Mr Davis replied: "We decided to ask him: 'Tell us what you want, come back to the table and we'll consider it'." The Opposition leader, though, retorted: "It seems to me the entrepreneur is saying: 'You're asking me to restart the process all over again'... The whole thing I've been working on is nullified, and I'm back to square one'."
But Mr Davis, hitting back at the "betrayal" comments, said: "I feel deeply disappointed and disturbed by his comments. I could call him and his lawyer, and if you contact his lawyer he would tell you what I actually said to him [Mr Smith]. I didn't tell him to throw away what he's done. I said reapply, and what you've done we'll take into account. If he's saying that, I don't know what he wants from me."
The Prime Minister then seemed to issue a warning to Mr Smith by saying "a lot of other people" were looking at the same site on Paradise Island's western end, in the vicinity of Colonial Beach, as a location for investment projects of their own including Bahamians. This implies that the Government is free to lease the Crown Land to whoever it likes, and he added: "I'm disappointed and disturbed. I feel betrayed by him."