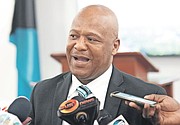 IMMIGRATION Minister Keith Bell said 1100 people have been repatriated so far this year.
He also said 82 people were convicted in Abaco on February 13 for illegal immigration offences, including illegal entry, overstaying and attempting to mislead an immigration officer.
"Since the launch of Operation Secure, we have received various requests (for) operations to be undertaken in other islands. I can assure the public that our immigration officers on the Family Islands are also doing their part, as during the past months, persons have been arrested in Bimini, Eleuthera, and Grand Bahama, and have been brought to New Providence for further processing. Operation Secure is the beginning and not the end of special operations on the family islands," Mr Bell said.
"You'll recall that last year, we repatriated some 4,700 plus persons from The Bahamas at a cost of $1.5 million. In January of this year, we have repatriated some 570 persons at a cost of $326,000."
"For this year alone we have repatriated in excess of 1,100 persons in the last two months. And if current trends continue, there is a very strong likelihood that we will exceed the numbers of last year in a very significant way."
Mr Bell also spoke about the number of people currently detained at the Carmichael Road Detention Center.
"On Tuesday, the 21st of March 2023...a total of 202 persons were detained at our detention center, and they came from countries including South America, China and Africa," he said. "The highest numbers (were) Ecuadorians, Brazilians, Haitians, Cubans and Jamaicans. There are 24 persons in our safe house; of course, we're talking about women and children."
Mr Bell also defended immigration officers for denying landing entry to visitors. His comment was likely a response to international headlines about two Moldovan models who were denied entry to the country recently.
"I wish to take this opportunity to inform the public that our immigration officers are equipped with BITMAP devices to share biographic and biometric data of suspected individuals from literally all over the world, (including) Europe, Asia, Africa, the Caribbean, Central and South America. We can track…criminals and criminal threats trying to enter our territory, either by land or sea," he said.
"Therefore, when a person is not landed or denied entry into The Bahamas, it's for a good and valid reason of which the public would not be aware. And I will say no more on that subject."