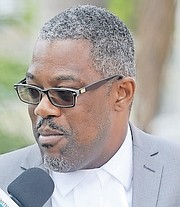 By JADE RUSSELL
Tribune Staff Reporter
jrussell@tribunemedia.net
TENSIONS in the Free National Movement boiled over on Tuesday night when deputy chairman Don Saunders publicly argued with a constituency association chairman about whether party leaders want to sideline Dr Hubert Minnis.
Mr Saunders was telling reporters he knew nothing about efforts to prevent Dr Minnis from speaking at association meetings when Peter Outten, the chairman of the Carmichael constituency association, emerged to say: "That interview was nonsense."
 The subsequent back-and-forth between the two men followed a Mount Moriah constituency association meeting where Dr Minnis spoke.
 The Nassau Guardian reported earlier this month that Dr Minnis has complained about being prevented from speaking at association meetings, exposing tension between the former leader and his successor.  
 While Mr Saunders acknowledged party leaders discourage speeches at association meetings, he denied letters were sent to presiding officers demanding they restrict Dr Minnis' ability to address supporters.
 "(It's) not that we don't want individuals to speak," he said. "But we want everybody to be focused on the vision of building associations so we wanted them to be as we vision moving forward."
 Not satisfied with Mr Saunders' response, Mr Outten said the former Tall Pines MP had "shamed" the party.
 "Don't you ever lie to the Bahamian people again for this organisation," he said.
 "It's not nonsense; it's facts," Mr Saunders replied.
 "We are not concerned about stopping persons from speaking at meetings," he told reporters. "Our concerns, I've said this before, are when you have individuals or their agents using these meetings as grounds to facilitate, orchestrate, and to develop political campaigns specifically for leadership."