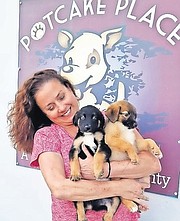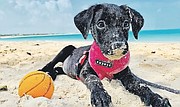 With Charlie Harper
The Turks and Caicos: It's kind of like our little brother. A neighboring archipelago, for many years a tropical backwater, now more recently blossoming into a desirable tourist destination.
But why has TCI suddenly become of interest in Washington? Stay tuned.
Turks and Caicos are still a British territory. Before Jamaican independence in 1962, the British governor in Kingston oversaw TCI. Later on, the British governor of The Bahamas was also made governor of the Turks and Caicos Islands. When we got independence in 1973, the British appointed the islands' own governor.
There has been controversy in TCI that in some respects resembled some of our own turmoil. The "T" in the American DEA's OPBAT counter-drug operation here stands for Turks and Caicos.
The British suspended local government from 1986 to 1988 following allegations of government involvement with drug trafficking which resulted in the arrest of Chief Minister Norman Saunders.
By 2002 the islands were re-designated a British Overseas Territory, with islanders gaining full British citizenship. But troubles followed again, and in 2009 the Premier resigned after he was hit with charges of corruption. Local government was restored in 2012.
With tourism on the rise, TCI has been relatively stable since. But the islands made headlines over the weekend in Washington.
Why? Potcakes!
A Washington Post reporter discovered and interviewed Jane Parker- Rauw, the founder and director of a highly creative and inspiring business called Potcake Place K9 Rescue. She started this nonprofit organisation in 2004, but "I was rescuing dogs for probably about five years before that, just unofficially," Parker-Rauw said.
This is her story, told to the Post reporter. Is it possible that something similar could happen here in The Bahamas?
Parker-Rauw, originally from England, moved to Providenciales in 1996 for a job in the spa industry, initially committing for only 12 months but never leaving. Her story so far is hardly unfamiliar here.
Soon after moving to Turks and Caicos, however, she noticed all the stray dogs roaming around. She learned where potcakes get their name.
"Just seeing the problem, I wanted to try to do something to help," Parker- Rauw told the Post. Like many Englishmen and women, she has always been an animal lover, although she had no prior practical experience working with dogs.
She began volunteering at the local SPCA, and would canvas residential areas to spread the word about spay and neuter services. Parker-Rauw became an evangelist for potcakes.
"Every house seemed to have six to 13 puppies, and the SPCA had nowhere to put them," said Parker- Rauw, whose volunteer job at the time was to have the puppies euthanized. "It wasn't out of cruelty. They just had nowhere to put all these pups."
"I understood why it had to be done," she said. "But it didn't sit too well with me."
Parker-Rauw eventually founded Potcake Place, a charity staffed entirely by volunteers and funded by private donations. A group of about 15 volunteers rescue the puppies, which they often hear about through the local SPCA. Locals and tourists also alert them when they spot a litter. Parker-Rauw said some people leave boxes overnight outside the adoption center that are filled with abandoned puppies.
At any given time, there are between 60 and 100 puppies and dogs at Potcake Place. They are mostly fostered in local volunteer homes until they are adopted.
Although the adoption requirements are rigid, "we adopt out every single one of our puppies", Parker- Rauw said.
Potcake Place has a storefront in a busy shopping area, and tourists line up in the mornings to have a chance to take a pup on a walk on the beach. Sometimes the line extends around the block.
American tourist Brandon Kay told the Post that his wife had heard about the charity before their trip, and she suggested they go visit the adoption center in popular tourist area Grace Bay to see the cute puppies.
Puppy walks sponsored by Potcake Place have become a popular tourist attraction in the area. Word has spread about Potcake Place and the walks are becoming part of the tourist experience in Provo. "Ultimately, you're helping these puppies get adopted by socializing them," said one volunteer.
Parker-Rauw and her team have placed more than one thousand dogs. She said most people take their dogs home with them (pets under 20 pounds can sit in the cabin of commercial flights of most airlines), but some rely on volunteer couriers to transport them.
"At least 40 percent of people that adopt with us are with couriers," said Parker-Rauw. The charity tries to find a willing tourist to volunteer to serve as an escort and take the adopted dog with them on their way home. Arrangements can then be made for the dog to be reunited with its new family. Generally, the adopters pay the $125 cabin fee.
In its own way, Parker- Rauw said, being a courier is "very rewarding," particularly for individuals who don't feel ready to adopt. "You can help in lots of ways other than adopting."
"Not everyone can do everything," she said. "But everyone can do something."
What an astonishing story. And given the Post's wide readership, it's certain to stimulate more visits to Potcake Place in Provo and to lead to more touching stories of canine adoptions.
We are all aware of our Bahamas Humane Society and its worthy efforts to rescue and rehabilitate stray, unwanted or abused animals.
The BHS was founded in 1924 as the Dumb Friends' League, "speaking for those who could not speak for themselves". According to this praiseworthy organisation's website, "the main reason for forming the society was to help care for and protect the donkeys, mules and horses used to pull carriages and carts. From old newspaper accounts, it is apparent that the cruelty was overwhelming in those days. The wives of some local businessmen used to also go down to the docks to feed sandwiches to the stray dogs".
The Bahamas' Humane Society is approaching its centennial next year. What would it be like if a group of Bahamians borrowed an idea from our neighbors in TCI and started something like Potcake Place here? What a birthday present that would be for the often-beleaguered BHS! And what a tribute it would be to our fine tradition of caring for our many outcast and deserving dogs.
OVERLOOKED WBC OFFERED INTENSE BASEBALL MOMENTS
REAL life exceeded sports hyperbole on Tuesday night in Miami. In a tournament that got lost in the mix of NFL free agency, NBA's final playoff push and America's unique March Madness college basketball championship tournament, the World Baseball Classic shone.
20 teams qualified for this tournament, including Cuba, Mexico, the Dominican Republic, Puerto Rico, Canada, the UK, China and "China Taiwan". The title game featured the US and Japan.
In a highly-anticipated matchup in the championship game of the fifth Classic, superhuman Japanese two-way pitcher and slugger Shohei Ohtani came on to protect a 3-2 lead for his team in the ninth inning against a US squad that included MLB stars like the inimitable Mike Trout, 31, already the ten-time all-star and three-time league most valuable player for the Los Angeles Angels.
"Fans come to the ballpark obviously cheering for their team, you know, like, obviously the Angels. But then you've got families and people coming to the ballpark [for the WBC] to cheer for their country. It's different. It's just - I can't really express what was different about that. You just feel it in your veins, you know? It's a special, special feeling," Trout said.
The Angels are the same team for which Ohtani has starred at the plate and on the pitcher's mound for several years after his highly-publicized move from the Japanese top league.
Ohtani walked the New York Mets' 2022 batting champion Jeff McNeil to open the final inning. The Dodgers' Mookie Betts was next. The owner of the third-richest contract in the history of North American professional sports, Betts promptly grounded into an easy double play. Trout was next to bat.
The Angels' pitcher prevailed over the Angels' hitter, striking out Trout on an off-speed slider after setting him up with half a dozen 100 mph fastballs.
Japan won its third WBC. The US has won the other two. This often-overlooked event will likely attract far more attention next time, three years hence.