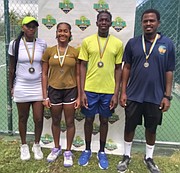 By BRENT STUBBS
Senior Sports Reporter
bstubbs@tribunemedia.net
WITH their final trials held over the weekend at the National Tennis Center, the Bahamas Lawn Tennis Association completed the make-up of both the men's Davis Cup and female Billie Jean King Fed Cup teams.
By virtue of reaching the final, collegian Donte Armbrister and veteran player/captain Marvin Rolle will join the duo of Kevin Major and Denali Nottage, who earned their berths as the top two seeds during the BLTA's Giorgio Baldini Invitational in December.
The quartet will now prepare to represent the Bahamas in Paraguay starting on June 19.
While the Billie Jean King Cup is scheduled for July 26-29 in Santo Domingo, the Dominican Republic, Simone Pratt battled back to regain her berth on the team along with Saphirre Ferguson following their top two finishes over the weekend.
They will be added to the team that originally included the top two seeds Elana Mackey and Sydney Clarke, two collegians who also booked their trip from the tournament in December.
Armbrister over Rolle
In the men's final, which came to an abrupt stop on Sunday, Armbrister took the first set 6-4, but Rolle retired and decided not to play the second set with a sprained neck injury.
Unseeded Armbrister advanced to the final after he blanked Cailan Bowe 6-0, 6-0 and ousted No.2 seed Anthony Burrows Jr 6-0, 6-2.
Rolle, meanwhile, got a bye in the first round and knocked off versatile high schooler Dentry Mortimer Jr 6-2, 6-3. But in the final, after going up 4-2 on a break, Rolle watched as Armbrister stormed back to break twice at 4-4 and 6-4 for the win.
"I felt I played well through the tournament, but in today's match, I think I was a little tentative," Armbrister said. He was able to dictate most of the points and I had problems with my first serves, so I had a lot of [problems on my service games.
"But he wasn't really serving as big as usual, so on his returns, that gave me some opportunities to be in the match. He's a crafty player, so I didn't know what to expect."
Coming home from college where he enjoyed a successful season with the Hampton University Pirates, earning the MVP award, the 21-year-old Armbrister said he was looking forward to participating in the trials and making his second appearance on the Davis Cup team.
"I'm always excited to represent my country," he stated. "I haven't been on the national team in a while, so I'm happy to be back. I'm playing with KJ again and for the first time with Denali, and also with Marvin again as the captain.
"I think we should do well. I know KJ has been playing a lot of tournaments, Denali has also been playing a lot of tennis and I had a good season, so we just have to go out there and give it our best and bring it on home."
Rolle, who will still travel with the team and serve as the team captain, said although he came out strong and he served well, he could only watch as Armbrister fought back into the match.
"He started putting a lot more balls on the court and he was a little more patient," Rolle pointed out. "I just couldn't continue with the injury. I have to go to work tomorrow (today), so I have to be ready for that. But he played well."
Having played on the Davis Cup team since he was 16, at the age of 40, Rolle said it's always an honor to represent the country and he's confident that the team selected will do well.
But he cautioned them all that they will have to be ready because there are some tough teams in their group in the Dominican Republic and Bolivia, who have be4en relegated from zone II to III.
"We will try and see what we can do," he said. "Donte is playing a lot of college tennis, KJ is out there playing, and Denali is out there playing as well. I'm also trying to do my thing, trying to stay in shape as much as I can hitting with PJ (Philip Major Jr). But this is going to be a tough tie with Bolivia and Paraguay also included."
Pratt over Ferguson
In the ladies' final between a pair of lefties, Pratt remained unblemished in her three matches played with her 6-0 ,6-0 whitewashing of youthful Saphirra Ferguson just like she did against Sierra Rodgers and top seed and fellow Grand Bahamian Jailsa Clarke.
Ferguson, playing as the No.2 seed, had a quick 6-0, 6-0 decision over Caila Bowe, but admitted that Pratt had her number in the final.
"I think my performance3 was pretty good in this tournament. I felt like I was in much better shape and my game was pretty good," said Pratt said. "It was the first time playing against Saphirra and after the match, I gave her pointers on her to improve her game."
As for her return to the national team, coming back from the birth of her son, Stevon, the 27-year-old Pratt said she love the sport and has always been motivated to play and she just wanted to put in the work to continue what she enjoys doing.
"I feel I'm climbing up there. I'm still not where I want to be, but I feel like it's getting there," said Pratt, who made her first Fed Cupo team (as it was called then) in 2010 and has made six other appearances.
"I'm always excited about playing on the national team. I just like the team environment. I went with Sydney and Elana before and now we have Saphirra, so we just have to go out there and try our best."
For Ferguson, she's delighted to finally make her breakthrough on the senior national team. She admitted that she learnt a lot from playing Pratt and she hope to take the experience with her into her practice sessions for the team.
"It was kind of weird because i saw her doing a lot of things that I should have been doing, especially with my footwork," the 15-year-old online school student said. "It wasn't the same as playing a right hander.
"But I'm just happy I made the team. I know now I have to put in the work in practice because now I will be looking to playing layers who are a lot stronger than she is. I am not that close with these young ladies, but I hope to get to know them better and we can be able to help each other."
When the Billie Jean King team travel in July, they are expected to have former multiple national champion and former long-time Fed Cup player/captain Kim O'Kelley returning after a long hiatus as their captain.