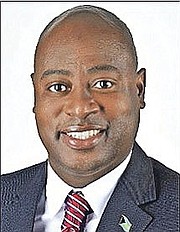 By NEIL HARTNELL
Tribune Business Editor
nhartnell@tribunemedia.net
Bahamians could "see a totally different economy" if the decision by most petroleum dealers to halt diesel sales lasts for up to two weeks, a well-known contractor warned yesterday.
Leonard Sands, the Bahamian Contractors Association's (BCA) president, told Tribune Business he was optimistic that gas station operators and the Government will resolve their impasse over a requested increase to price-controlled foxed margins (see other article on Page 24B) relatively quickly given what is at stake and that both sides have too much to lose.
However, he warned that any long-lasting suspension of diesel sales by Bahamas Petroleum Retailers Association (BPRA) members would have potentially "significant" consequences for much of the local construction industry as "95 percent of heavy duty equipment" uses this fuel.
While large contractors, and major projects, typically have tanks that can store between 10-14 days' diesel supply, Mr Sands told this newspaper that smaller operators will likely become "very nervous" if the gas station sales halt is still in place this time next week as it could bring their work to "a screeching halt". The fall-out, he added, would be "much worse than just one or two complaining jitney drivers".
New Providence's diesel supply has not suffered a complete shutdown since Monday as the fuel is still available through FOCOL Holdings' seven owned and operated Shell-branded gas stations. However, jitney and taxi drivers, plus truckers and companies with diesel vehicle fleets, have been inconvenienced and forced to divert from their regular routes and jobs plus queue in order to refill their tanks - all of which costs time and money.
Focusing on construction specifically, Mr Sands said: "The impact, if it's sustained beyond a couple of days, will be significant. Beyond 95 percent of heavy equipment runs on diesel fuel. Any heavy lifting device, any heavy duty machinery, runs on diesel. Projects that have a lot of infrastructure development going on will need backhoes, excavators, doing any kind of civil works all run on diesel.
"Major projects right now have their own fuel supply, their own tanks, so they can supply their own projects. When that is used up, they fill up from the retail stations. If this goes beyond a couple of days, and they have to call for fuel, it will be interesting to see if the retailers say they can't provide fuel. If it goes on for any length of time, it could shut down the construction industry."
Any shortage of diesel, Mr Sands added, would also impact the shipping industry as it represents its primary fuel source. "It's certainly strong-arming the Government to make a decision in their favour however they do so," he said of the petroleum dealers' tactics.
"The desire of the retailers is to get the attention of the Government. They recognise construction is the third pillar of the economy, and with the marina sector you're talking about hundreds of millions of dollars in economic activity coming to a screeching halt, so I think they will get the attention of the Government by the end of the week," the BCA president added.
"I don't think we're [in the construction industry] too concerned about it yet. The reality of it is that the Government will be forced to play ball. I don't think they're in a position where they can say no. They're going to be forced to agree to it. If they say 'no' and things go wrong, you're talking about the Government taking a second hit.
"The lack of economic activity, and those projects stopping, means you lose tax money as well. It's a double hit. They know the importance of this industry for tax reasons. We need to keep this engine going. This engine stopping makes everyone a little nervous. I don't think this will last more than a few days. If it goes beyond 10 days, it will get nervous for the small guys in construction. Very nervous. Heavy equipment would be dead in the water," Mr Sands continued.
"We'll sit and see, but I think they will come to an understanding before Friday. That's my personal view. If it lasts to this time next week, you will have more than one or two jitney drivers complaining." Petroleum literally fuels the Bahamian economy, and any decision to stop selling a particular type of fuel will have negative consequences for businesses - especially those in the transportation field or those that operate diesel vehicle fleets.
Mr Sands said many Bahamians seemed unaware as to the negative consequences of any long-lasting diesel sales halt by a majority of dealers. "The public is so insulated from reality," he added. "They don't realise food trucks that supply stores run on diesel. It's going to impact everything if it stretches to a couple of weeks. We'll see a totally different economy.
"Trash trucks run on diesel. BPL, Water & Sewerage. You could talk about a total collapse of the system if you are unable to fuel service vehicles." However, Mr Sands again argued that the potential political fall-out, and impact on the Bahamian economy and society, meant that the Government and petroleum retailers will likely reach a resolution in short order.
The Davis administration, though, has yet to reach out or contact the gas station operators, according to their industry body last night, with the diesel sales halt well into its second day. The Government has also yet to comment on the situation or address it publicly.
Michael Pintard, the Opposition's leader, yesterday said he had "serious concerns" about the economic fall-out unless the Government addressed the situation. "Just productivity; the loss of productivity," he told Tribune Business. "People unable to get to work on public transportation or through their own vehicles.
"Many persons in the construction sector are using diesel-driven equipment, and residents who use generators need diesel. There are multiple potential adverse impacts if we are not able to get a resolution to this matter." Mr Pintard urged the Government to work with petroleum dealers to ensure they "are not put in a position to fail or experience shortages or unavailability of diesel or fuel" but also balance this with protecting consumers from higher costs.