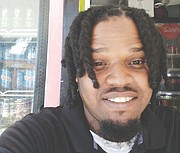 By PAVEL BAILEY
Tribune Staff Reporter
pbailey@tribunemedia.net
AZARIO Major's siblings hugged and held back tears after a Coroner's Court jury ruled that their brother's police-involved killing in 2021 was a homicide by manslaughter.
The officers in the case, meanwhile, sat silently, seemingly shocked after the five-member jury delivered their verdict.
Acting Director of Public Prosecutions Cordell Frazier will now decide whether to charge any or all of them with a crime.
She told The Tribune yesterday: "File has to be received and reviewed and a determination made."
Findings against the police are rare. In addition to homicide by manslaughter, jurors could have returned a result of justifiable homicide or homicide by murder.
Major was killed outside Woody's Bar on Fire Trail Road on December 26, 2021.
His family was convinced he did nothing to justify being killed and spent thousands investigating his death.
The officers allegedly involved in the shooting testified during the inquest. Jurors also heard from a ballistics expert brought by the family.
The issues in dispute during the inquest included: how many officers fired their weapons, whether Major brandished a gun and whether Major knew or had a relationship with any of the officers.
The officers said Major visited the bar looking for "Slim," an officer who was among the four that allegedly killed him.
Acting Coroner Kara Turnquest-Deveaux presided over the inquest. David Cash represented the family.
Authorities recovered 45 bullet casings from the scene.
After the verdict, Azano Major, brother of the deceased, said: "It's been a long time coming. I'm just happy that at least for tonight my family can have peace. We will see what the future holds."
Fredia Major said she felt vindicated by the ruling and expressed hope that her brother's death will spur reform.
"I feel like Azario's name is going to live on and it's going to create hope for so many people in The Bahamas for so many years to come," she said. "And we're looking for the justice system to be revamped and changed."