Wednesday, September 27, 2023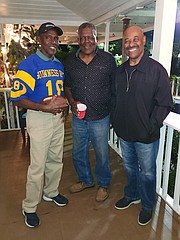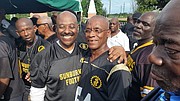 By BRENT STUBBS
Senior Sports Reporter
bstubbs@tribunemedia.net
Before he got his feet wet in politics, Burkett Turnquest said he was able to persuade former Minister of Social Services Obediah Hercules Wilchcombe to become the president of the Commonwealth American Football League in 1990-1991.
Wilchcombe, who had served previously as president of the Grand Bahama Amateur Basketball Assocation before he moved to New Providence as a journalist at ZNS, served with Turnquest as his first vice president for one season before he got into politics.
The duo, at the time, played with the Sunburners Football Club, coached then by Richard Gardiner. Wilchcombe, however, quit playing as the Sunburners' quarterback the following year, relinquishing his position in the CAFL and turned his attention to running for office in the Progressive Liberal Party.
"I just had my 70th birthday and I invited him down to celebrate with some of our football friends," Turnquest said. "That was the last time we talked face to face, but we still communicated over the phone.
"Obie was a nice, guiet guy. He always wanted to organise things. We did well together as a team because we were able to advance the league."
Popular businessman Bernard 'Porky' Dorsett said he was so shocked when he heard about the passing of Wilchcombe that he called his former Sunburners Football Club teammate to confirm whether it was true or not.
When he didn't receive an answer, Dorsett said it confirmed his worse fear that Wilchcombe, a former quarterback in the Commonwealth American Football League, had indeed died.
"I thought it was a joke when I woke up and saw the notice on my phone. I had to call him, but he didn't answer the phone. He would call me back because we talked all the time," said Dorsett, who was the backup quarterback to Wilchcombe.
"The man was a consummate sportsman. He played the game, he loved the game. I had some good times playing with him. I still can't believe that he is dead."
Dorsett, the proprietor of Porky's Gas Station, said he remembers how they both were in attendance at Turnquest's 70th birthday party on January 20 at his home in Montagu near Queen's College.
"We were there talking foolishness all night," Dorsett said. "It was like old times for us. He cracked me about not attending my party. I told him that the next one he will definitely be there."
While he was a double sport superstar, Wilchcombe held court in basketball in Grand Bahama at the YMCAS Gymnasium, but stuck mainly to American football here in New Providence with the Sunburners Football Club mainly at the DW Davis playing field.
The Sunburners' archrivals were the Pros Football Club and Ken Kerr, representing the club, extended their heartfelt condolences and deepest sympathies to Wilchcombe's immediate family, friends and fellow colleagues in government and his beloved constituents of West End, Grand Bahama and Bimini.
"We also want to extend our thoughts and prayers to his wider sporting family and in particular the Sunburners Football Club of which he played numerous years as captain and quarterback," Kerr said.
"He was instrumental in leading them to their first national championship against us. This was for him and his team a cherished and long overdue victory because they were challenged over the years to beat the Pros."
Kerr also noted that Wilchcombe's competitive drive on the field transcended in his daily life and his politics.
He noted that under his calm demeanour, he was a fierce competitor.
"Obie loved sports and will be sorely missed," Kerr stated. "Again, on behalf of the Pros Football Club, we extend our best wishes to all during this extremely difficult time. In sports as in life, Obie competed well. May God grant him peace and blessings to his family. Our country has lost a gem."