Thursday, September 28, 2023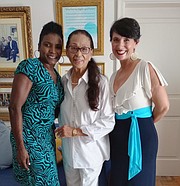 By BRENT STUBBS
Senior Sports Reporter
bstubbs@tribunemedia.net
AS they reflect on their humble beginnings as one "barefoot girl" to another, Golden Girl Pauline Davis presented her award winning book "Running Sideways" to former Governor General Dame Marguerite Pindling. Davis, 57, presented the book to Pindling, 91, during a courtesy call at the wife of the first Prime Minister of the Commonwealth of the Bahamas, Sir Lynden Pindling, at her home on Skyline Drive on Tuesday.
Accompanied by her publicist Suzanne Mann, Davis said she was humbled to be able to present the book to Pindling. It was the first copy of the book stamped with the international stamp on it. Track and Field Writers of America selected the book as the best Memoir/Autobiography of 2023.
Davis said she's presenting the book to Dame Marguerite for the role her husband played as her "guiding angel."
She said she just wanted to come in person to say "thank you" to Dame Marguerite for the support she gave her husband.
In accepting the book, Dame Marguerite said she was so "touched" and "honoured" to have been selected as the first recipient of the book, similar to Sir Lynden presenting Davis with her first running shoes.
Pointing out how it all got started, Davis said she was training with members of the Bain Town Flyers Track Club, headed by coach Neville Wisdom, at Goodman's Bay early one morning when Sir Lynden approached the group and singled her out.
At the time, Davis said she was a teenager attending the Government High School. She went on to become the Austin Sealy award winner as the most outstanding athlete at the CARIFTA Games hosted at the original Thomas A Robinson Track and Field Stadium in 1984.
She went on to compete for the University of Alabama and was successful in earning medals in both the 100 and 200 metres at every major international meet from the Central American and Caribbean Games to the Olympic Games, the latter in which she was the first from the Caribbean to secure a gold medal.
Davis also teamed up with Eldece Clarke, Chandra Sturrup, Sevatheda Fynes and Debbie Ferguson-McKenzie to capture the Olympic silver and gold medals as well as the World Championship gold medal in the 4 x 100m relays, thus earning the nicknames, the "Golden Girls."
Dame Marguerite inquired about Davis' team-mates as she had not heard much about them in recent times. Davis provided an update and noted they played just as much of a significant role in her life as did Sir Lynden.
"Her husband has been so instrumental in helping me to become who I am today," said Davis, who also served as a council member of World Athletics, the world governing body for the sport, and is now a lifetime member. "She's our Bahamian queen. She's so beautiful woman and very elegant and she was Sir Lynden Pindling's wife. "She had to be a part of his life and what he was doing and so when she asked me if I remember when I got the shoes from him, she knew that he had brought me these running spikes and so the fact that she was able to ask me that, pointed to the fact that she had to be intimately involved in this whole journey."
Davis pointed out the fact that Sir Lynden did not only buy her first pair of running shoes, but he inquired just about every time she was competing, how she was doing and what could he do to help her.
"What was so amazing was the fact that Sir Lynden got involved in me before I really did anything," Davis said. "He picked me out of the pack and told me that I was going to be something special. He watched me grow up and he supported me very quietly in his own personal way.
"He didn't want a lot of people to know. But in listening to Lady Pindling, I realised that she knew exactly what he did for me. So I am very delighted to present her with this book for believing in this little barefoot girl from Bain Town. She told me she was a barefoot girl from Andros."
Clinging to the notion that "it takes a village to raise a child," Davis said she was elated to know that she had someone as important as the PM looking out for her well being. So she was excited to be able to say "thank you" to Lady Pindling in her husband's absence.
Mann, a native of Australia currently residing in the Bahamas, said it was so important and an honour for her to give the first copy of the book with the certificate to Dame Marguerite.
"She wouldn't let me do it for anyone else until this one was given to Dame Marguerite when she found out about all the help that she and her husband gave to her during her career," said Mann, who is also one of Davis' close friends.
Mann revealed that persons interested in getting a copy of the book can do so on Amazon or contact Davis via Facebook or Instagram page for an autographed copy.
The book shares the journey of how she fought through poverty, inequality and racism to beat the odds and become a two-time Olympic gold medallist.